PICTURED: The crepes at Downtown Cafe. Photo by Nancy D. Lackey Shaffer
by Nancy D. Lackey Shaffer
nshaffer@timespublications.com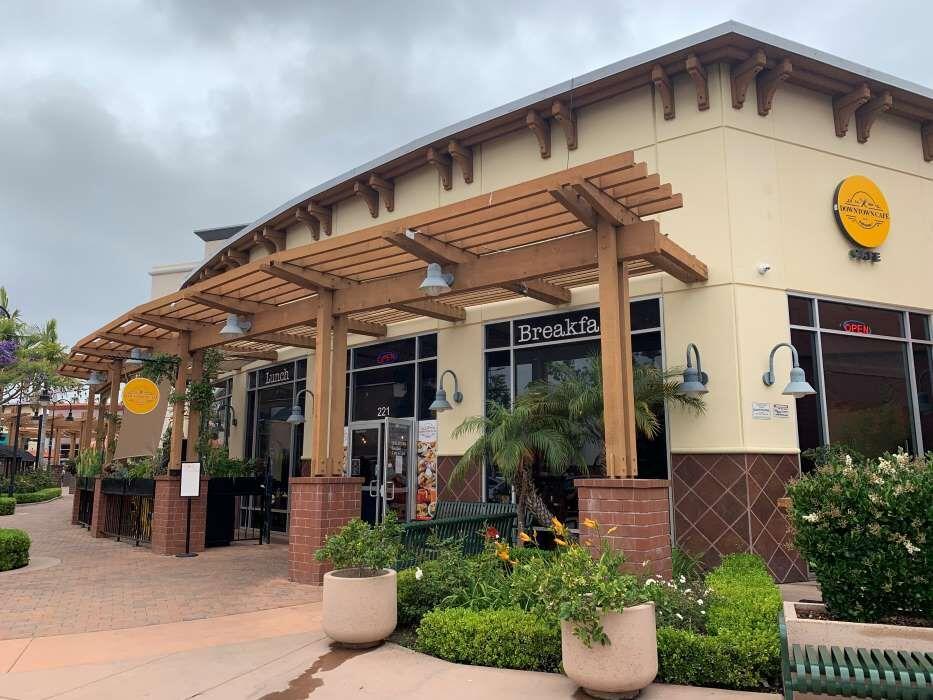 Between Xielo, BG's Cafe and roughly a zillion amazing taco shops, there's no lack of good eats in Downtown Oxnard. Even so, it got a little tastier in 2022 with the January opening of Downtown Cafe by JL. It's owned by a trio of Lopezes — cousins Jill and Julio, and a third partner, Jose Luis — who collectively represent the "JL" in the name. (The three also own and operate Loru's Cafe in Camarillo.)
Unsurprisingly, Mexican food is one of the specialties here — but the menu is by no means limited to south-of-the-border flavor. A variety of seafood dishes and steaks can be had at dinner, while lunch includes plenty of burgers, sandwiches and wraps. 
But my favorite meal here, by far, is breakfast.
On the savory side: the usual egg, bacon and sausage dishes; biscuits and gravy; fabulous omelets and Benedicts. For those who like something sweet and/or carby: waffles (with fried chicken, if you so desire), pancakes in several different flavors, and French toast (traditional or the more indulgent cinnamon role version). But the offering that really earns my gold star: crepes.
Downtown Cafe does several different things with those crepes, too. Try the German version, with a sweet, lemony butter, or Swedish style with lingonberries. Chocolate lovers will probably gravitate toward the Nutella-filled crepes with fresh strawberries. Love crepes but not the sweet? Chicken and mushroom or bacon, ham and swiss — both with hollandaise sauce — beckon.
I'm a savory breakfast kind of person, but if I see blintzes on the menu, they are probably going on my order. My husband and I started our breakfast at Downtown Cafe with just that: two fluffy, tender crepes filled with sweetened cottage cheese and topped with fresh strawberries and cream. For a lighter meal, these with an excellent latte or cappucino would have been more than sufficient.
But neither of us can resist the lure of a good chile verde, and it is definitely one of the restaurant's specialties. We happily chowed down on chilaquiles and huevos rancheros spiked with the tangy, rich, meaty pork-and-tomatillo concoction, and ate just about every bite, despite the generous portions. We weren't fans of the home potatoes, which were surprisingly bland despite being sautéed with bell peppers and onions, but the hash browns were flawless.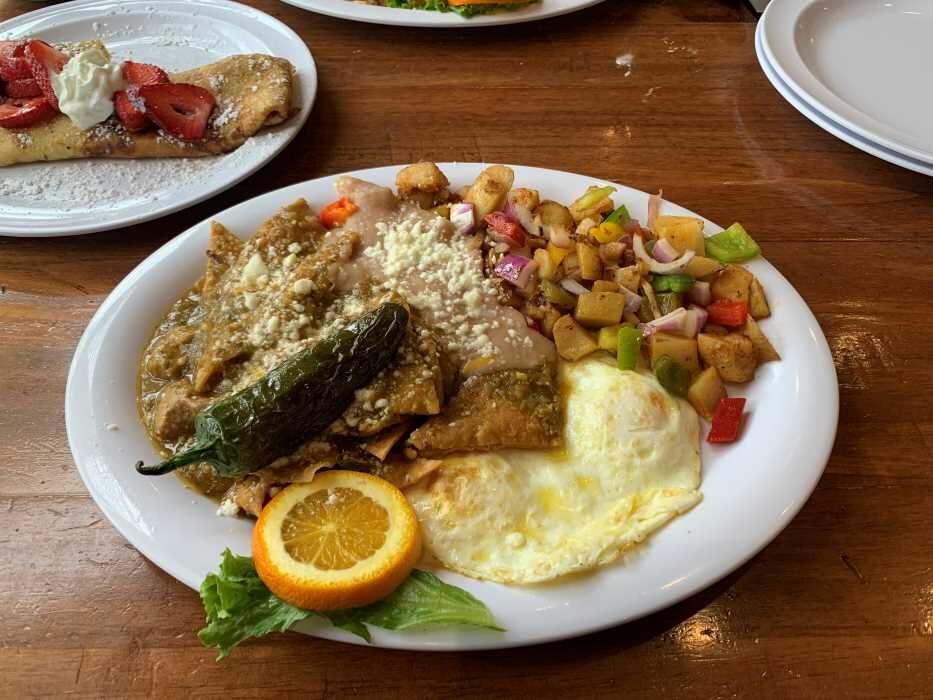 The drink menu is not exhaustive, but it's pretty good. The usual coffee and espresso drinks, micheladas, Bloody Marys (made with soju or something similar, I imagine) and mimosas . . . plus sodas, milkshakes, wine and beer for afternoon libations. Mimosas are $10 a pop, with your choice of cranberry, orange, pineapple or strawberry juices — and our server was kind enough to let us have a mix of pineapple and strawberry juice for ours. This is Oxnard and strawberries are in season, so it should not come as a surprise that the "juice" was fresh strawberry puree . . . and delicious. If you're feeling indulgent, you can get it bottomless (and probably try ALL the juices) for $17.99 — but note that there's a one hour limit on that.
As for service — every bit as good as the food! Even on this busy morning, our server took time to answer our questions, make recommendations and check on us throughout our meal. And at the end of it, Julio Lopez himself popped by to say hello (something I noticed him doing with all of his customers). Locally owned with the proprietors taking a hands-on approach to management — I'm guessing that's contributing to the success of this lovely little cafe. (A great location and nice outdoor seating probably help, too.)
Despite stiff competition in Oxnard's lively Fifth Street community, Downtown Cafe by JL is more than holding its own. Even on a foggy <em>weekday</em> morning, the place was full of cheerful diners enjoying great food, good coffee and pleasant company. Just like us. Just like you, if you go there yourself. And you should . . . because everything's waiting for you Downtown.