Arcade
1st Place
Ventura Village Carousel
1567 Spinnaker Drive, Suite 100, Ventura
644-3234
2nd Place
Golf N' Stuff
5555 Walker St., Ventura
644-7131
3rd place
LazerTag Extreme
1775 E. Daily Dr., Suite I, Camarillo
388-0088
Bartender
1st Place
Mary Claudia Ramirez @ 5th Street steakhouse
231 W. 5th St., Oxnard
483-0200
TIE
2nd Place
Shannon Perez @ Sans Souci Cocktail Lounge
21 S. Chestnut St., Ventura
643-4539
Danny D'Auria @ Billy O's Bar & Grill/ Paddy's Bar & Lounge
Billy O's Bar & Grill
2819 E. Main St., Ventura
483-0200
Paddy's Bar & Lounge
2 W. Main St., Ventura
652-1071
3rd Place
heidi youman's @ Winchester's Grill & saloon
632 E. Main St., Ventura
653-7446 Beer on tap
Beer on tap
1st Place
Anacapa Brewing Company
472 E. Main St., Ventura
643-BEER
2nd Place
Winchester's Grill & saloon
632 E. Main St., Ventura
653-7446
3rd Place
BRendan's Irish Pub & Restaurant
1755 E. Daily Dr., Camarillo
383-4100
Cheap date
1st Place
Date Night at the Regency
Buenaventura 6
1440 Eastman Ave., Ventura
658-6544
2nd Place
Golf N' Stuff
5555 Walker St., Ventura
644-7131
3rd Place
The Beach
EDITOR'S PICKS
Best music promoter
Jon Shimer
It's easy to rave about the Ventura music scene lately. Even easier if you like it loud and fast. Almost nightly, in one haunt or another, a band is raging, fists are pumping and beers are being slammed. The throng of local talent continues to increase the size of our dot on the music map, while it becomes a destination for touring acts to gain a bit of street cred. In the mix of it all is music promoter Jon Shimer.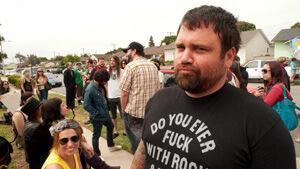 Sitting at his desk in Midtown Ventura, Shimer swivels his chair toward the hundreds of records organized from ceiling to floor and leans back with a grin. "The last three years has put Ventura on the map for shows coming through," Shimer says. "It's been word of mouth with booking agents and managers. They want to come here now."
While promoters come and go, Shimer has consistently been propelling the garage/punk/hardcore scene in Ventura after moving from Lancaster in 2004. Now working under the acclaimed Eddie Numbskull banner, Shimer is the guy who recently sparked perhaps the most legendary local all-ages punk show in years that reunited The Missing 23rd and Glass and Ashes, while also flying out Richmond, Virginia's Strike Anywhere to play on the same bill at Zoey's Cafe. 
Along with Numbskull, Shimer books shows from Lancaster to San Luis Obispo, where he recently escorted and entertained rap group Dead Prez after picking them up from the Santa Barbara Airport.
 "I'm not getting rich from this. That's not my goal," Shimer says. "But my life is rad."
Grouping local bands with touring acts like NoBunny, The Spits, Young Livers, Davila 666, Git Some and Andrew Jackson Jihad over the past couple of years, Shimer, who has contributed to booking shows in more than 60 venues throughout California, attests it's only going to get better with each passing year.
Why?
 "The best part of booking shows in Ventura is that you're in Ventura," Shimer says. "It's a great place to be."
To reach Jon Shimer about booking a show, e-mail playfast138@gmail.com.
— Shane Cohn
Club DJ
1st Place
DJ J Scratch
2nd place
DJ PJ
3rd place
DJ danny page
Comedy club
1st Place
Ventura Harbor Comedy Club
1559 Spinnaker Dr., Ventura
644-1500
2nd Place
Ventura Improv Company
34 N. Palm St., Ventura
643-5701
3rd Place
805 Comedy @ The Sportsman
4426 Central Avenue, Camarillo
512-0498
Dance club
1st Place
Paddy's Bar & Lounge
2 W. Main St., Ventura
652-1071
2nd Place
bombay bar & grill
143 S. California St., Ventura
643-4404
3rd Place
Candlelight Kitchen & Bar
211 E. Santa Clara St., Ventura
643-3264
Darts
1st Place
Victoria pub & grill
1413 S. Victoria Ave., Suite F, Ventura
650-0060
2nd Place
brendan's Restaurant & Irish Pub
1755 E. Daily Dr., Camarillo
383-4100
3rd Place
The Bench Warmer
1855 E. Main St., Ventura
643-4303
Dive bar
1st Place
Sans Souci Cocktail Lounge
21 S. Chestnut St., Ventura
643-4539
2nd Place
Star Lounge
343 E. Main St., Ventura
648-4709
3rd Place
Rudder Room
2929 Ocean Dr., Oxnard
985-6096
Gay bar
1st Place
Paddy's
2 W. Main St., Ventura
652-1071
Happy hour
1st Place
Aloha Steakhouse
364 S. California St., Ventura
652-1799
2nd Place
Yolanda's
2753 E. Main St., Ventura
643-270086
E. Daily Dr., Camarillo
389-9922
1601 S. Victoria Ave., Oxnard
985-1340
590 E. Los Angeles Ave., Simi Valley
306-9933
3rd Place
Brophy bros. restaurant & clam Bar
1559 Spinnaker Dr., Ventura
639-0865
Jukebox
1st Place:
Sans Souci Cocktail Lounge
21 S. Chestnut St., Ventura
643-4539
2nd Place:
Busy Bee CafE
478 E. Main St., Ventura
643-4864
3rd Place
El Rey Cantina
294 E. Main St., Ventura
653-1111
Karaoke
1st place
Golden China
760 S. Seaward Ave., Ventura
652-0688
2nd Place:
Paddy's
2 W. Main St., Ventura
652-1071
3rd Place
Outlaws grill and saloon
2167 Pickwick Dr., Camarillo
484-3691
Open – mic
1st Place
Zoey's Cafe
185 E. Santa Clara St., Ventura
652-1137
2nd Place
Golden China
760 S. Seaward Ave., Ventura
652-0688
3rd Place
Java joe's coffee & espresso
2950 Johnson Dr., Suite 125, Ventura
275-0304
Pool hall
1st Place
Stiix Billiards
2520 E. Main St., Ventura
641-2020
2nd Place
The Q Club
2362 N. Oxnard Blvd., Oxnard
278-1231
3rd Place
Victoria pub & grill
1413 S. Victoria Ave., Suite F, Ventura
650-0060
Singles hangout
1st Place
BRendan's Irish Pub & Restaurant
1755 E. Daily Dr., Camarillo
383-4100
0three-way tie
2nd Place
Bombay Bar & grill
143 S. California St., Ventura
643-4404
Dargan's irish pub & restaurant
593 E. Main St., Ventura
648-3001
Watermark on Main
598 E. Main St., Ventura
643-6800
3rd Place
El Rey Cantina
294 E.. Main St., Ventura
653-1111
Sports Bar
1st Place
Cronies Sports Grill
2855 Johnson Dr., Ventura
650-6026
370 N. Lantana St., Camarillo
482-5900
2752 Cochran St., Simi Valley
583-9999
2nd Place
Rookees
419 E. Main St., Ventura
648-6862
3rd Place
the bench Warmer
1855 E. Main St., Ventura
643-4303