Antique Store

1ST PLACE
Nicholby's Antiques
404 E. Main St., Ventura
653-1195
2ND PLACE
Times Remembered
467 E. Main St., Ventura
643-3137
3RD PLACE
Avenue Antiques
826 E.Main St., Ventura
653-7732
Gardening Store

1ST PLACE
Green Thumb
1899 S. Victoria Ave., Ventura
642-8517
2ND PLACE
Oasis
33 S. Palm St., Ventura
641-9909
3RD PLACE
Baron Brothers
7568 Santa Rosa Road, Camarillo
484-0085
Gift Shop

1ST PLACE
Plum
401 E. Main St., Ventura
641-0113
2ND PLACE
B on Main
337 E. Main St., Ventura
643-9309
3RD PLACE
KB Roberts
2415 E. Main St., Ventura
643-3333
Home Furnishings

1ST PLACE
For Your Home
443 E. Main St., Ventura
641-1919
2ND PLACE
Fusion Home
418 E. Main St., Ventura
652-7017
3RD PLACE
Urban Home
2801 Paseo Mercado, Oxnard
604-7445
Best place to reconsider the American Revolution:
Rosie Lee Imports
673 E.Main St., Ventura, 643-5832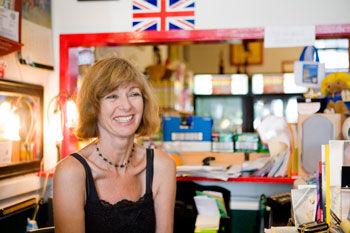 When the United States seceded from the British empire in 1776, we gained a lot of great things: a democratic political system, individual liberty, freedom from the tyranny of the tea industry. But historians rarely pause to consider what we gave up. Namely, decent tchotchkes. Let's face it, stars-and-stripes is a passable motif for a flag, but it screams "fledgling nation." The Union Jack, though, now there's a symbol you want on your T-shirts, coffee mugs and candy tins — just a big fucking cross with an X behind it. No wonder these guys ruled the world for centuries.
It's no surprise, then, that despite being our oldest enemy, Britain is the most fetishized foreign culture in America. Granted, it's adored mostly by snooty English lit majors who read Victorian murder mysteries and insist the BBC version of The Office is better than the American remake. But at Rosie Lee Imports, Ventura's epicenter of anglophilia, the focus is exclusively on the endearing iconography of our former oppressors. Like The Beatles, whose faces adorn items from lunch boxes to alarm clocks. And the Tube, the famous London subway system, with its boldly minimalist logo — a blue circle bisected by a solid red line — and cute catchphrase, "Mind The Gap." And the chocolate! Owner Susan Malloy has stockpiled a Wonka-esque inventory of confections, presumably so she can barricade herself inside the store for a few days if there is ever a sudden flare-up of anti-British sentiment. Not like that would ever happen — at least, not if everyone had a chance to try a Crunchie bar, a chocolate-dipped honeycomb so knee-bucklingly good it must have been knighted at some point. It's enough to make even the most red-blooded Yankee forget about that whole War of 1812 thing. Almost.
— Matthew Singer
Thrift Store

1ST PLACE
ARC
265 E. Main St., Ventura
653-0271
2ND PLACE
Salvation Army
155 S Oak St., Ventura
648-5032
4100 Telegraph Road, Ventura
658-7671
650 Petit Ave., Ventura
659-3598
3RD PLACE
Goodwill
3351 Telegraph Road, Ventura
650-9339
330 W 6th St., Oxnard
483-2511
130 Lombard St., Oxnard
485-2867 ·
Bridal Shop

1ST PLACE
Camarillo Bridal    2121 Pickwick Drive, Camarillo
389-1515
2ND PLACE
Unique Boutique
2833 E. Main St. Suite A, Ventura
653-1818
3RD PLACE
Sew What Tailoring & Design
433 E. Main St., Ventura
653-1920
Adult Store

1ST PLACE
Diva Passion Boutique
3431 Telegraph Road, Ventura
658-8011
2ND PLACE
Three Star books & NEWS     359 E.Main St., Ventura
653-9068
3RD PLACE
Salzer's
5801 Valentine Road, Ventura
639-2169
Shoe Store

1ST PLACE
Wild Planet
560 E.Main St., Ventura
643-5238
2ND PLACE
Well Polished
554 E. Main St., Ventura
648-1234
3RD PLACE
Blooming Deals
4756-4 Telephone Road, Ventura
650-0505
Womens' Clothing

1ST PLACE
Blue Moon
600 E. Main St., Ventura
643-2553
2ND PLACE
Cara Mia
424 E. Main St., Ventura
641-2556
3RD PLACE
Tiki Lounge
379 E. Main St., Ventura
641-0515
Best place to buy a miniature bidet:
Margo's Miniatures and More
2237 Ventura Blvd., Camarillo, 482-2219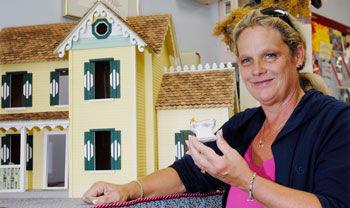 I was strolling along Ventura Boulevard in Camarillo when I came upon a virtual stuffed-animal petting zoo. Tigers, giraffes, pandas and several dogs stood guard outside of Margo's Miniatures and More. My curiosity compelled me to see what else was inside.
Once inside, I saw miniature houses everywhere: two- and three-story mansions and even an adobe hut. Several jewelry cases held thousands of tiny accessories for the houses, from a tiny bowl with exactly three small yolks with egg whites to little throw rugs and exceptionally small sinks.
But Margo's isn't just a place to modestly deck out my small-scale dream home, but Margo's also takes keeping your Barbie clean to a whole new level: On one of the shelves of the jewelry cases, one little bidet sat waiting to become the latest addition to the perfect but tiny dream bathroom.
For craft lovers who can't get enough of those tiny accessories, check out Margo's. I don't think there is one thing they haven't already thought of for your miniature dollhouse.
— Michael Sullivan
Men's Clothing

1ST PLACE
Wetsand
446 E. Main St., Ventura
652-1706
2ND PLACE
Bob Kildee
606 Las Posas Road., Camarillo
482-2124
3RD PLACE (TIE)
Parts Unknown
394 E. Main St., Ventura
648-4654
Patagonia / Great Pacific Iron Works
259 W. Santa Clara St., Ventura
648-6074
Ciao Bella
401 E. Main St., Ventura
643-3415
Children's Clothing

1ST PLACE
Ladybug & Caterpillar
451 E. Main St., Ventura
641-2229
2ND PLACE
Drool
2959 E. Thousand Oaks Blvd., Thousand Oaks, 557-1177
3RD PLACE
Blooms
2538 E. Main Street, Ventura
648-6744
Place to buy a swimsuit

1ST PLACE
Ventura Swimwear
1559 Spinnaker Drive. #102, Ventura
642-6281
2ND PLACE
Tiki Lounge
379 E. Main St., Ventura
641-0515
3RD PLACE
Wetsand
446 E. Main St., Ventura
652-1706
Lingerie

1ST PLACE
Aphrodite's
477 E. Main St., Ventura
652-0082
2ND PLACE
Diva passion boutique
3431 Telegraph Road., Ventura
658-8011
3RD PLACE
Mrs. Jones Boudoir
2068 Ventura Blvd., Camarillo
484-9800
Best place to buy plumbing material and get your spook on:
Camarillo Plumbing
2401 Ventura Blvd., Camarillo, 482-8963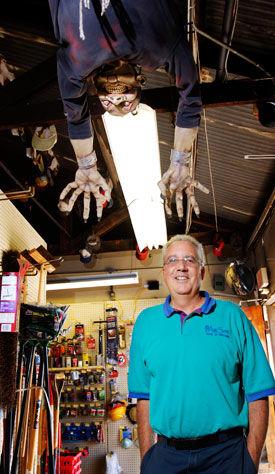 If you are ever in search of just the right tool to reach that annoying leak in your bathroom, then you should head on over to Camarillo Plumbing. Not only will you find the right piping to replace yours, which has rusted out from Ventura's salty air, but look up! Yikes! In just about every corridor of the store, a mummy or a ghost or a bloody-toothed shark will confront you on your shopping endeavor.
The folks who run Camarillo Plumbing have been putting on a haunted house for the last several years. Although they will not be hosting a fright show this year, if you talk to any of the people at the counter, they will give their freaky haunts some juice while you shop. My favorite was the scary guy wrapped in chains with eyes bugging out, hanging above the back aisle on the left side of the store.
Not only does this unique scenery beg for attention, but the walls are decorated with dozens of truckers' hats — an old tradition whereby the former store owner allowed construction workers to trade in their mesh caps for hard hats. And for those of you who think you can't find that small piece of your 1970s thermostat, well, Camarillo Plumbing has some of the oldest plumbing parts (along with the latest and greatest) to be found in the county. The big-box chains simply can't compete in aesthetics, parts or service.
— Michael Sullivan
Formal Wear

1ST PLACE
California & Main
481 E. Main St., Ventura
643-6200
2ND PLACE
A/C Formal Wear
140 W. Fifth St., Oxnard
483-1181
3RD PLACE
Sew What
433 E. Main St., Ventura
653-1920
Jeweler

1ST PLACE
Lynn's Jewelry
6100 Telegraph Road. Suite C, Ventura
642-5500
2ND PLACE
Fox Fine Jewelry
210 E. Main St., Ventura
652-1800
3RD PLACE (Tie)
Joseph's
3301 E. Main St. Ventura
Pacific View Mall
650-0808
Toy Store

1ST PLACE
Serendipity
221 E. Matilija St., Ojai
646-2585
2ND PLACE
Harbor Wind and Kite
1575 Spinnaker Drive., Ventura
654-0900
3RD PLACE (Tie)
Blooms,
22 S. Catalina St., Ventura
648-6744
Toys and Trains,
1974 E. Main St., Ventura
643-8697
Wild Planet
560 E. Main St., Ventura
643-5238
Ventura Hobbies
2950 Johnson Drive., #128, Ventura
658-8138
Flower Shop

1 ST PLACE
Passion Flowers
920 E. Main St., Ventura
641-1076
2ND PLACE
Sweet Peas
2855 Johnson Drive. Ste Q, Ventura
644-9992
3RD PLACE
Ashwood on Main
3051 E. Main St., Ventura
653-6929
Best firewood source:
Craftsman Woodworks
5960 Valentine Road., Ventura, 642-4200
With energy prices skyrocketing, Ventura County residents this winter will be looking for alternative heating fuels. Firewood, if used thoughtfully, is a good choice, but buying good firewood can be a tricky business.
All too often, wood cut just weeks earlier will be falsely described as "seasoned," and many woodcutters seem to think a cord is whatever happens to fit in their pickups. Given these unfortunate facts, the best firewood lot in
Ventura County turns out to be surprisingly convenient and fairly run, though not easy to find.
It's visible from both Victoria Avenue and Highway 101, but it has no official name, and seems to fly under the radar. It's a side business run out of a woodworking shop named Craftsman Woodworks, located in an industrial zone off Valentine Road, and can be found at the end of an unnamed alley.
If you want delivery, they will give you a full cord at a standard price: $180. But if you can beg, borrow or steal a pickup, you can fill it up for between $60 and $80 (depending on the size of the truck and your negotiating skills), save yourself substantial sums and have a hand in choosing the wood yourself. To find the lot, head down Valentine Road, past Salzer's video, and turn right at the last paved alley, past the mailboxes, under a Citrus Industrial sign and before the end of the road.
The lot is at the end of the alley, or you can go to Door #11. It helps to habla some Español, but the shop is run by a hipster named Bobby, who can joke with you in at least two languages. The best time to show up is early November, when the lot will be stacked with small mountains of split firewood.
— Kit Stolz
Arts and Crafts

1ST PLACE
Ojai Creates
606 E. Ojai Ave., Ojai
640-6558
2ND PLACE (Tie)
Firefly Ceramics
1580 Saratoga Ave., Suite C, Ventura
650-1468
Cottontail Creations
1744 E. Main St., Ventura
643-1700
Anacapa Fine Yarns
4572 Telephone Road. #909, Ventura
654-9500
3RD PLACE
Fabrictown
2686 E. Main St., Ventura
643-3434
Pet Store

1ST PLACE
Linda's Claws & Paws
1865 E. Main St., Ventura
648-6060
2ND PLACE
Ventura Pet Barn
3004 Telegraph Road., Ventura
585-2276
3RD PLACE
Naturally Four Paws
1766 E. Thompson Blvd, Ventura
648-7297
Motorcycle Accessories

1ST PLACE
RPM Cycles
1495 Palma Drive. Suite B, Ventura
644-7159
2ND PLACE
CalCoast Motorsports
5455 Walker St., Ventura
642-0900
3RD PLACE
Ventura Harley
1326 Del Norte Road. Camarillo
981-9904
Motorcycle Dealer

1ST PLACE
RPM Cycles
1495 Palma Drive. Suite B, Ventura
644-7159
2ND PLACE
Ventura Harley
1326 Del Norte Road. Camarillo
981-9904
3RD PLACE
CalCoast
5455 Walker St., Ventura
642-0900
New Car Dealer

1ST PLACE
Vista Honda
6450 Leland Drive., Ventura
654-0066
2ND PLACE
Ventura Toyota
6360 Leland Drive., Ventura
650-0510
3RD PLACE (Tie)
Barber Ford
3440 E. Main St., Ventura
642-6701
Bunnin
1501 E. Ventura Blvd., Oxnard
351-3005
Used Car Dealer

1ST PLACE
Cars 101
2000 Lockwood St., Oxnard
604-9400
2ND PLACE
Barber Ford
3440 E. Main St., Ventura
642-6701
3RD PLACE
Ventura Toyota
6360 Leland Drive., Ventura
650-0510
Tire Shop

1ST PLACE
Big Brand Tire
3850 E. Main St., Ventura
650-3290
2ND PLACE
Five Day Tire
804 E. Main St., Ventura
648-2712
3RD PLACE
Fred's Tire
545 Ventura Ave., Oakview
649-2830
Cigar Store

1ST PLACE
Smokers' Castle
1824 E. Main St., Ventura
643-7894
2ND PLACE
John T's
3301 E Main St., Suite 1024
Pacific View Mall, Ventura
654-1570
3RD PLACE
White Star
1504 E. Thompson Blvd., Ventura
641-4100
Headshop

1ST PLACE
Salzer's
5777 Valentine Road, Ventura,
639-2160
2ND PLACE
Wild Planet
560 E. Main St., Ventura
643-5238
3RD PLACE
Wild Side
2850 Johnson Drive, Suite F, Ventura
644-4060