Opening
Hans
and
Liana Hormann
launched
California Kombi Rentals
, a unique VW bus mobile photo booth and camper rental experience centered in Ventura. The 1968-1979 VW fleet include seating four, a sound system, camp box, vintage cooler and more.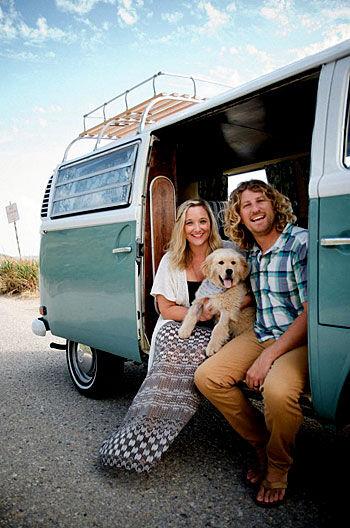 Hans and Liana Hormann
Expanding
Meathead Movers opened a new office at 4744 N. El Capitan in Fresno. Meathead Movers is the largest independent moving company in California, currently seeking to hire 50 new employees in the Ventura, San Luis Obispo, Orange County and Fresno markets by the end of 2015. The Ventura County office is located at 331 N. Dawson, suite A, in Camarillo.
Relocating
Ventura Red Brick Gallery is now Red Brick Art and will open at 4601 Telephone Road, #112, in Ventura on Aug. 19. The new location will focus more on classes as well as bimonthly featured art exhibits. There will be weekend and weekday fine art classes for all ages and skill levels. … On Sept. 1 Very Ventura Gift Shop and Gallery will be moving to 540 E. Main St. (next to Buffalo Exchange) in Ventura. It will also be expanding the gallery.
And the award goes to …
Attorneys Bret Anderson, Jesse Cahill, Douglas Goldwater and Leslie McAdam were named to the Rising Star list of Super Lawyers for 2015. The list includes fewer than 2.5 percent of the lawyers in the Southern California region who are 40 years old or younger or who have been in practice for 10 years or less. The four attorneys are partners with Ventura County's full service law firm Ferguson Case Orr Paterson LLP. … The Boys & Girls Clubs of Greater Oxnard and Port Hueneme (BGCOP) received two National Merit Awards for Program Excellence from the Boys and Girls Clubs of America's 109th National Conference in Chicago.  BGCOP received the National Merit Award for Education and Career Development for its unique youth entrepreneurship program and the National Merit Award for Sports, Fitness and Recreation for its sailing program. BGCOP was the only club to receive multiple awards and was also named as one of the top three programs nationally. … Fox Fine Jewelry was named America's Coolest Jeweler by Instore Magazine, jewelry's No. 1 leading trade publication. The Ventura jewelry store was selected out of 23,000 jewelers by a panel of industry experts. … The city of Ventura's Fleet Services Division was named the No. 1 Small Fleet in the nation for 2015 by Government Fleet Magazine. This is the first fleet to earn this honor for two consecutive years and it is sponsored by Ford Motor Company. The Leading Fleets Award recognizes operations that perform at a high level, particularly in fleet innovation and leadership as well as competiveness, efficiency, planning for the future and overcoming challenges. … The County of Ventura was named among the 2015 Digital Counties Survey winners by the Center for Digital Government and the National Association of Counties. The annual survey recognizes leading examples of counties using technology to improve services and boost efficiencies and identifies best technology practices among U.S. counties. … Ventura County Public Health (VCPH) was recognized by the Greater Los Angeles Nutrition Education and Obesity Prevention Training and Resource Center for earning the distinction of being the first local public health department in the State of California to receive national accreditation from the Public Health Accreditation Board. After one year, VCPH remains the only county public health department in the state to earn the accreditation and only one of 75 in the nation.
Moving up
Bill Locker was recently named as new CEO of Sage Network Inc., a Camarillo-based IT Services company, by owners Mari and Randy Hill. Locker comes to Sage after serving the past seven years as the CEO of the Boys & Girls Club of Camarillo.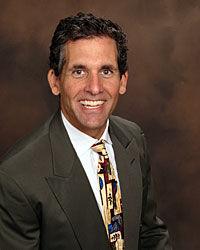 Matt McCormick
Matt McCormick
has joined the board of governors of the
Boys & Girls Clubs of Greater Conejo Valley
. He is currently an estate agent with Coldwell Banker and previously worked in executive corporate management at Warner Brothers Entertainment. …
Henry Dubroff
has been appointed to
Economic Development Collaborative-Ventura County
board of directors. Dubroff is the founder, chairman and editor of the Pacific Coast Business Times, the weekly business journal for Santa Barbara, Ventura and San Luis Obispo counties. He brings extensive business expertise and economic insight; he previously served as editor of the Denver Business Journal and as business editor at The Denver Post. …
Arturo Casillas
has been added onto the senior leadership team of the
City of Oxnard
as the housing director. Casillas has over 28 years of experience with the Oxnard Housing Authority and is a past member of the National Association of Housing and Redevelopment Officials and the Housing Authority Association of Southern California. …
Christie Evans
has been named as the director of sales and marketing for
Embassy Suites by Hilton Mandalay Beach Hotel & Resort
in Oxnard. Evans started her career in hospitality 15 years ago as a front desk agent and earned her way to her most recent position, assistant director of sales and marketing. She has been the recipient of Hilton's
"Circle of Excellence for Business Travel Sales."
…
Joseph P. Lillio III
has been appointed as the chief financial officer for the
City of Oxnard
. Lillio brings extensive experience; finance manager for Las Virgenes Municipal Water District, senior accountant/finance manager for the cty of San Fernando, financial analyst for the city of Santa Clarita, forensic auditor for the Franchise Tax Board and a private sector financial manager for Princess Cruises. He is expected to assume his duties on Aug. 10. …
Jeff Turner
was selected to be the superintendent for the
Mesa Union School District
in Somis. Turner was previously the assistant superintendent of educational services at the Rio School District in Oxnard where he managed instructional programs for 5,000 students in the district's six elementary and two middle school. He assumed his superintendent duties on July 20.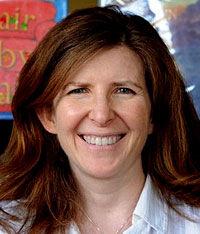 Heather J. Cousin
Heather J. Cousin
is the new library services director for the
City of Thousand Oaks
, bringing with her over 15 years of experience of leadership in the field. She has also been the recipient of a Eureka Fellowship, one of the most prestigious public librarian awards in the state. Her duties begin on Aug. 24. …
The Rev. Melissa Maxwell-Dougherty
has been promoted to
CLU's
newly created position of vice president for mission and identity. She now oversees the office of campus ministry, congregational relations, the Segerhammar Center for Faith and Culture and the office of seminary relations and interfaith efforts. Maxwell-Dougherty will also work closely with Pacific Lutheran Theological Seminary administrators, the Belgium Chair in Lutheran Confessional Theology and Theology and Christian Leadership Program faculty. …
Edward Clift
and
Victoria Liptak
have taken leadership positions at the
Brooks Institute
in Ventura. Clift has been appointed as president and Liptak as the provost. Clift previously served as founding dean of the School of Media, Culture and Design at Woodbury University in Burbank and Liptak was the Chief Academic Officer and Interim Dean of Kendall College of Art and Design at Ferris State University in Michigan. …
Margarita H. de Escontrias
has been named the chief executive officer of
Cabrillo Economic Development (CEDC)
in Ventura. She will lead a staff of 73, manage a $6.2 million budget and assist a 13-member board of directors in setting corporate direction, managing projects and operations. De Escontrias joined CEDC in 2013 as the director of business planning and administration and she has been serving as the interim CEO since Dec. 2014. …
Attorney Daniel A. Higson
joined Ventura County law firm
Hathaway, Perrett, Webster, Powers, Chrisman
and
Gutierrez
. Higson has practiced law in the county for 38 years with specialization in civil litigation, business law, trusts and estates, probate and personal injury. In 2000, he was certified by the State of California as a
Bankruptcy Law Specialist
at the state level and in 2007 the American Board of Certification certified him at a national level. …
Abby Nielsen
is officially the owner and executive director of the
Kali Institute for Massage and Somatic Therapies
. Nielsen is a California licensed massage therapist and she has been actively taking over the facility under the guidance of founder Nancy DeLucrezia. …
Shanté Morgan-Durisseau
of Moorpark was appointed by the governor to the
Ventura County Fairgrounds
board of directors. Morgan-Durisseau is managing editor at the CSU Northridge marketing and communications office.
Cecilia Cuevas, Daniel Long, Armando Lopez, Jim Salzer
and
Bonnie Weigel
were reappointed to the board by the governor. …
County Treasurer/Tax Collector Steve Hintz
was named vice chair of the
California Association of County Treasurers and Tax Collectors (CACTTC) Area V.
CACTTC is comprised of the Treasurer-Tax Collectors in California's 58 counties and they meet on an annual basis to discuss issues prevalent in their counties. Hintz will serve as vice-chair for FY 2015-2016, with the responsibilities of Chair in FY 2016-2017.
Moving on
Senior Pastor Larry Wagner of Ascension Lutheran Church in Thousand Oaks retired after 37 years. He was also the youth pastor for 37 years, a frequent speaker for the Thousand Oaks High School Baccalaureate service, two year president of the Conejo Valley Ministerial Association and a pillar in the Conejo Valley community. … Meloney Roy has retired from her position as the Ventura County Health Care Agency (VCHCA) deputy director. Prior to her most recent position, Roy built her career in Ventura County for 18 years; she started in 1996 as a psychiatric social worker to lead clinician to Mental Health Services supervisor, manager and deputy director and eventually she earned the role of Ventura County Behavioral Health director. Her retirement from VCHCA was effective July 15.
In the name of charity
The Boys & Girls Club of Simi Valley raised over $120,000 at its 37th Annual Auction "Celebrating the 70s" where it celebrated its 45th anniversary. The funds will support various programs throughout the years. … Ventura County Animal Services received $100,000 towards a matching fund donation campaign from the Hahn-Block Family Foundation. The funds will be used to create more space and a more suitable habitat for animals; additional funding will be used on the new Pet Retention program that is designed to help keep pets with their owners by assisting with medical bills and pet deposits. The shelter is inviting the community to help double the contribution by making a donation by Sept. 1. Go to www.vcas.us for more information.
Education
CSU Channel Islands (CSUCI) earned re-accreditation for nine years from the Western Association of Schools and Colleges (WASC). Among the numerous commendations by WASC, CSUCI was recognized on its creativity, ingenuity and tenacity in sustaining quality educational and co-curricular results for their students. … More than 200 local students were awarded nearly $1.1 million in scholarships by the Ventura County Community Foundation at its 2015 Scholarship Reception. The event was attended by more than 400 students, their families, and many of the donors who made the awards possible; the awards ranged from $750 to $20,000. … Daniel Chell, a recent graduate of Cal Lutheran University (CLU) has received a 2015-2016 U.S. Student Fulbright Award to teach English in Mongolia. Chell researched the Los Angeles' Mongolian immigrant community for his senior capstone and his award will cover travel, room and board for his 10-month stay while teaching at Otgontenger University in the capital city of Ulaanbaatar. … Another CLU graduate, Terry Tucker, was awarded a 2015-2016 Fulbright U.S. Scholar Grant after receiving a doctorate in higher education leadership. Fulbright recipients serve as cultural ambassadors for the United States. … Four Ventura students were the recipients of the Housing Authority of the City of San Buenaventura (HACSB) Scholarship Program. The scholarship program is the result of a partnership with Pacific Western Bank, awarding two $1,500 scholarships for students attending four year institutions and two $750 scholarships for students attending two year institutions.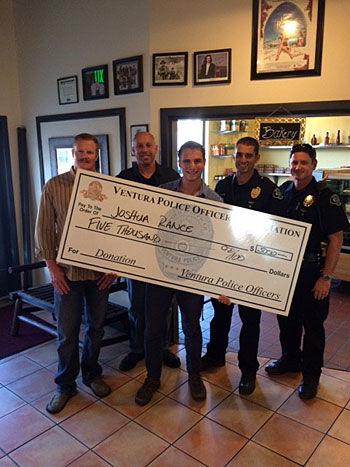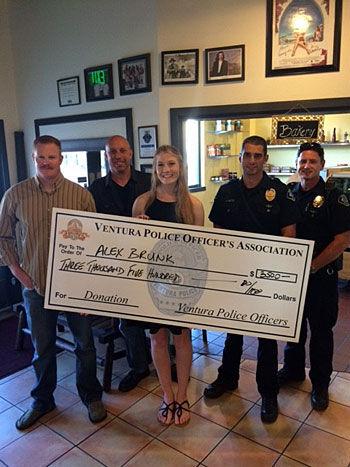 Joshua Rance                                                              Alex Brunk
Joshua Rance, Alex Brunk, Jordan Schindler, Jonathan Richmond
and
Aaron Borkovec
are the 2015 recipients of the
12th annual Dee Dowell Memorial Scholarship
from the
Ventura Police Officers Association
. The winners were determined by academic achievement, school and community service and financial need. The scholarships are to honor Sergeant Darlon "Dee" Dowell, the only officer in Ventura's history to die in the line of duty (08/07/78).
Government
The cities of Carpinteria, Santa Paula and Ventura were awarded funds by the State's Housing Related Parks Program to support and encourage the expansion of their affordable housing supply, with Santa Paula receiving $516,350 for 110 incentivized units and Ventura $421,050 for 167 incentivized units.
Media
Mixteco/Indigena Community Organizing Project (MICOP) has launched Ventura County's first Indigenous radio station via internet hosting Mixteco, Zapoteco, Nahualt and Spanish language programming. Twenty-five community radio DJs have been trained and have all developed their own one-hour radio programs playing indigenous music and teaching important community information. MICOP is preparing for FM broadcast in October and is asking supporters to help raise the $20,000 needed for antenna and studio costs. For more info, www.mixteco.org.
Under construction
HACSB held a groundbreaking event to commemorate the commencement of a $28.8 million acquisition and rehabilitation project that will fully renovate 101 existing apartment units for extremely low income seniors and disabled persons in Ventura. The work will involve extensive infrastructure, energy and water efficiency improvements and upgrades and interior restoration work at the HACSB's properties in east Ventura; completion is estimated at the end of Feb. 2016.