PICTURED: The Attaca Quartet will be one of many highlights at the 2021 Ojai Music Festival, taking place Sept. 16-19. Photo by David Goddard
by Mike Nelson
Forgive Ara Guzelimian if he sounds a bit excited — over excited, even — when he talks about the upcoming Ojai Music Festival.
"I've had lots of emails with capital letters and exclamation points from the artists who will be performing this year," chuckled the festival's artistic and executive director. "The desire to make music for someone else is such a powerful inner drive, and now that we're having the chance to finally do so again after being idled by the pandemic — well, what we're feeling, I think, is close to exhilaration."
An understatement, for sure. The Ojai Music Festival is celebrating its 75th anniversary Sept. 16-19, and its return after the pandemic-enforced cancellation of 2020. This year's event will be bringing in both new and returning performers, to the delight of music lovers who are thrilled to welcome back a tradition that has received worldwide acclaim.
"The response from the public has been very positive, with early sales of festival passes exceeding those of recent events," said Guzelimian. "It speaks to people's desire to reclaim their lives."
Under the direction of Guzelimian and music director John Adams, the 2021 Ojai Music Festival is highlighting its California heritage with an array of local artists and composers, while also embracing those from the world stage and maintaining its adventurous spirit and approach to presenting new music. The list of selections includes the world premieres of "Sunt Lacrimae Rerum" by Dylan Mattingly and the revised version of Gabriela Ortiz's "La Calaca," along with the West Coast premiere of Samuel Adams' "Chamber Concerto" and the first concert performance of Esa-Pekka Salonen's "Objets Trouvés." 
Among those making their Ojai debuts are Rhiannon Giddens and Francesco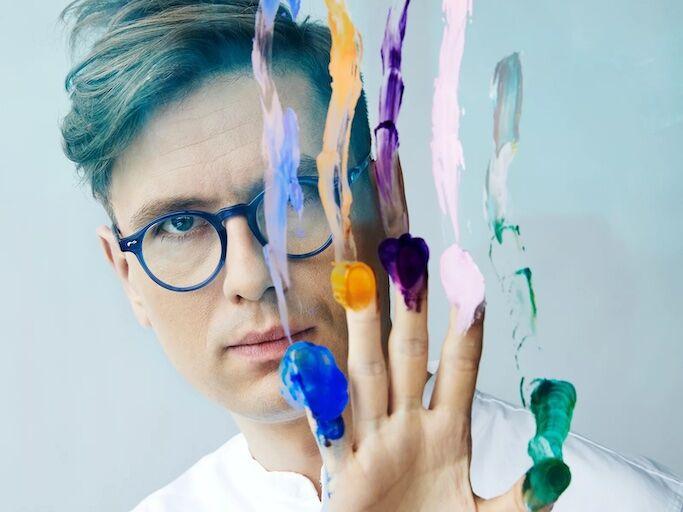 Turrisi, pianist Víkingur Ólafsson, the Attacca Quartet, violinist Miranda Cuckson, and recorder player Anna Margules. Returning artists include pianist/composer Timo Andres, the LA Phil New Music Group, and the Los Angeles Chamber Orchestra.
The event is a homecoming of sorts for Guzelimian, a native Southern Californian who first attended the Ojai Festival while a college student at UCLA, and served as its artistic director in the mid-1990s. He recently stepped down after 13 years as provost and dean of the Juilliard School in New York City, following eight years as senior director and artistic advisor of Carnegie Hall. He spoke with the Ventura County Reporter by phone prior to returning from New York.
VCR: After a year off due to the pandemic, what's it like to be doing live music again? 
Guzelimian: It's pretty thrilling. We're all so deeply craving things in our lives that put us together and in contact with each other. The few musical events I've gone to outdoors recently have had not only an extra electricity, but also such a tangible sense of gratitude that we can do what we love.
How has the pandemic affected your plans for this coming festival?
We've all learned to be part-time epidemiologists and public health experts, and we're very blessed to get constant advice from county health and hospital officials. So we have quite a significant set of fairly strict protocols; we require proof of vaccination and masking, to assure the highest standards of safety and protection for everyone.
Is the festival scaling back or adding more events compared to past years? And what about the tone or focus of the festival?
It's slightly scaled back, but fairly comparable to the norm of the last 10 years. As far as tone, it's very positive. This is the 75th festival, and because I grew up in Southern California, and have come to Ojai since I was a teenager, I wanted it to be a homecoming of sorts; that was taking formation before the pandemic and has taken on greater urgency since.
So there is a California-centric element among composers and performers, to honor California's heritage. John Adams, our music director and a Northern California native, is bringing in six younger composers, two of them native Californians. I also wanted performers who are new to our audience as well as those who honor the festival's history, like the LA Chamber and LA Phil. Southern California has one of the biggest pools of great freelance musicians in the world, and so many of them suffered in the pandemic and had no income at all, so we wanted to honor them. 
I also wanted to honor California's Native heritage, so Chumash Elder Julie Tumamait will do a blessing before the Friday night concert, and lead a series of events exploring the music, culture and cosmology of the Indigenous peoples of the Ojai Valley, looking at the landscape through the eyes of culture and legend. Because we get the name "Ojai" from the Ventureño Chumash word "Awha'y," meaning "Moon." 
And we will do recent concerts featuring Mexican music, since this area was once part of Mexico and Spain. Gabriel Ortiz, the leading composer in Mexico today, will be present for the performance of several of her works.
Normally the festival is held in June, so what does September present in the way of challenges and opportunities? 
It's not the month, it's just a matter of coming back to life, and doing it under these circumstances. There will be the inconvenience of strict protocols, but there is a pretty universal understanding among everyone that this is what it takes to make live music possible.
After having been in New York for several years at Julliard, what does it mean for you to be involved in California once again? 
The call of home is so intense. I usually drive into Ojai from Ventura, and my first sight of the Ojai Valley is something I feel deeply. The valley and the festival [are] so wrapped with memory and meaning, and I just want to do all I can to renew that spirit even in the face of challenges.
---
The 75th Ojai Music Festival takes place Sept. 16-19 at several venues in Ojai, starting with "Prelude to a Festival" on Sept. 16, 9 p.m. at Libbey Bowl. Events will be live-streamed and later archived at OjaiFestival.org. Proof of vaccination will be required for all ticket holders, as will masks and social distancing at all concerts and events. For tickets and other information, call 805-646-2053 or visit OjaiFestival.org.