Cancer does not just invade the body, it invades lives. Not only does it traumatize the patient, but it spreads its tendrils to affect families and friends. Barbara Holt rediscovered her faith while enduring the long road to an accurate diagnosis of a very rare cancer. Bob Ferber defied the advice of all his doctors yet; in that act of rebellion, he unexpectedly experienced a full remission through a trial drug that was not supposed to save his life. Revis Robinson saw his tumor continue to grow over the years, as doctor after doctor failed to perform the most basic lab tests for diagnosis, yet he found remarkable treatment at the very last moment before his cancer became irreversible. Emily Fischer was still a child when her father got terminal cancer, yet this preteen continues to raise money and assist at the place where she finally felt safe.
Although cancer is a part of life for Ventura County residents, as it always been has for mankind, there are organizations that offer support services at no cost. These groups help people cope with cancer, making the experience a bit more bearable.
The cold, hard numbers
Did you know that 1.2 million people living in California have been diagnosed with cancer at some point in their lives?
Or, to put it in a more immediate context, according to the California Cancer Registry, nearly 134,000 Californians will be diagnosed with some form of cancer during 2010. During the same period, nearly 55,000 will die from it. Only heart disease kills more people each year than does cancer.
Crunching the numbers in a different way, nearly one out of two people born in California today will develop some form of cancer during their lifetimes. But for every person who is newly diagnosed, there are nine people living with a history of the disease.
Here in Ventura County, there are fewer people dying of cancer than there were a few years ago, but the progress is relatively small. The California Cancer Registry found that between 2004 and 2008, the incidence of cancer here, after being adjusted for age and population, dropped from 462 per 100,000 to ab out 443. The state average, however, is noticeably lower than in Ventura County, having moved from 442 down to 413. Ventura County falls smack in the middle of the cancer rates for all California counties.
There is one area of cancer prevention in which California has taken the lead. The rate of new cases of lung cancer in California is the lowest in the nation, a fact often attributed to the state's aggressive anti-smoking laws.
One statistic from the Centers for Disease Control does not follow the trend of heading downward. It shows that, from 1999 to 2005, the rate of the deadly skin cancer melanoma in California has remained unchanged. Other studies support that fact, showing that melanoma is difficult to treat and that we still have a long way to go to change our habits in order to prevent it.
The history of cancer
The ancient Greek physician Hippocrates studied and described several types of tumors and gave them the name "karkinos" or carcinoma. He compared the appearance of a tumor to that of a crab.
In those days, treatment for cancer was determined by the humor theory that health was determined by the state of four bodily fluids. This dictated the specific treatment, which might be blood-letting or diet or laxatives. The theory of humors guiding medical treatment remained dominant for the next 1,400 years.
By the 17th century, cancer was considered to be contagious. By the later 19th century, the development of the microscope brought about the theory of metastasis, describing how cancer cells invade other parts of the body. At the same time, the humor theory was at long last discarded as these observations of microscopic cells gave birth to the field of pathology.
Modern times have provided a double-edged sword for humanity and the treatment of cancer. When radiation was discovered by the Curies at the end of the 19th century, medical sophistication turned a corner. Marie Curie was ultimately killed by radiation exposure, yet that same phenomenon later revealed the first non-surgical treatment.
Cancer therapy moved out of the home and into the hospitals, where doctors of different disciplines were finally required to work together. This teamwork provided new information and gave birth to the first patient statistical studies.
Even Japanese victims of the atomic bombs dropped on Hiroshima and Nagasaki provided de facto information that proved to be key for a new type of treatment. Observing that the victims' bone marrow was destroyed by the radiation, researchers developed the bone marrow transplant treatment for leukemia.
Where medical treatment and healing begins
Patients, especially when newly diagnosed, often endure the awkward offerings of sympathy from friends and family. Some of these comments are so insensitive that they border on hilarious. There is even a website devoted to so-called cancer humor. Some examples of what not to say are, "If you only would get your life together, the pain wouldn't be so bad," or, "My husband's uncle's college roommate was cured of cancer by a village leader in a tiny town in South America. You should go there," or "I know a friend's cousin who beat her cancer by eliminating all white food from her diet," or, "You need to learn how to meditate, visualize, memorize Sanskrit poetry," or, "Appreciate each day as a gift from God." None of these sentiments, although well-meaning, are helpful. Some are just insulting. Others display a breathtaking lack of tact.
If you don't know what to say, just offer to be there for a friend or relative. Ask what your friend needs or wants. Listen closely if a friend wants to talk, or just be there for one who does not want to talk. Continue to treat as the same friend he or she has always been, with the same plans and dreams for the future.
Back in 1988, professional counselor and nurse Marty Nason co-founded the Westlake Village site of The Wellness Community. Before that, clients had to travel to Santa Monica to participate in the support services that are offered.
This year, The Wellness Community had 3,120 clients who made some 14,000 visits. One thousand of the clients are Spanish-speaking. Children of a parent or grandparent with cancer have their own art-therapy group called Kids Circle.
The Wellness Community offers support programs, art, needlework, yoga and stress-reduction classes. It has satellite offices in Ventura, Camarillo, Oxnard and Chatsworth.
"Cancer is absolutely terrifying and it affects the entire family," Nason said. "Coming to The Wellness Community is truly transformative. They can turn that terror into something with meaning to the cancer journey."
Grace Kennedy works for The Wellness Community. Even after her husband was transferred to the East Coast, she was able to keep her job by telecommuting. Kennedy has not had cancer and appreciates the value of the center by observing the participants.
Kennedy repeated what she had heard clients saying. "There is the medical side of fighting cancer, which gets a lot of attention for good reason," she said, "but addressing the emotional impact of diagnosis, treatment and recovery is just as important as the medical side."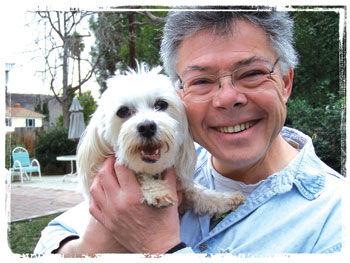 The journey can be unpredictable
Bob Ferber, 58, had chronic myeloid leukemia (CML). After experiencing vision problems, Ferber learned his diagnosis.
At that time, it was a deadly diagnosis with little effective treatment aside from a bone marrow transplant. No one in his family was a match. "My whole body was shutting down. I figured that I was going to be one of those guys that gets diagnosed with cancer, and three weeks later is dead."
Ferber heard about a trial at UCLA for a new drug called Gleevec but was rejected because his CML was too far advanced. A few months later, one slot in the trial opened, and he was accepted. The doctor warned him that the drug would not save his life but it might make him strong enough for the marrow transplant after a donor had been located.
Ferber was told that in order to have the transplant, he would have to live in a sterile environment. That meant giving away the numerous rescued animals that he had been collecting. "I went into a real depression," he said. "They were telling me, the way to live was not to live."
So instead of going through the pain of parting with his menagerie, Ferber canceled the transplant. Soon afterward, Gleevec stopped working, so another transplant was scheduled. He again canceled it. After being given six weeks to live, it was again rescheduled.
"At that point, I had accepted that I was going to die if I didn't get the transplant," Ferber said. "There was zero chance that Gleevec would keep me alive. But I just couldn't see any life for me being in a room without my animals." For the final time, Ferber canceled the transplant surgery.
A bit later, everything changed, and Ferber's lab test results revealed that Gleevec was working its magic. "I've had perfect blood tests for the past 10 years."
Ferber gives much of the credit for his emotional recovery to The Wellness Community. He said people there taught him how to be an advocate for himself, to take control of his regimen, and how to make his own decisions. Meeting others who were in far worse shape than he was at the time changed his perspective from self pity to strength and appreciation.
Ferber living in Calabasas now heads the Los Angeles City Attorney's special animal abuse prosecution unit. And he is happily living with more rescued animals than he cared to reveal.
When your doctors don't help you
Revis Robinson, 64, is retired and living in Ventura. But back in the 1970s, when he was living in Ontario, he knew that something was terribly wrong. He could see a bump growing on the outside of his calf.
"It protruded like a golf ball from my leg," Robinson said. "So I went to Kaiser and they said not to worry about it, it wasn't anything." Yet the growth continued to get larger. After a few visits, Kaiser agreed to remove the growth.
Although Kaiser had performed a biopsy that showed the growth was malignant, it failed to inform Robinson that he had cancer. No additional treatment was performed.
A few years later, the growth returned. Another operation, and again, Kaiser continued to withhold the crucial information from Robinson, denying him the opportunity of seeking a second opinion. This pattern continued through a third surgery with Kaiser in Ontario.
In 1980, Robinson was transferred to Ventura. The growth had returned yet again. After going to the San Buenaventura Clinic on his friend's recommendation, he met the familiar resistance. "It was kind of the same thing all over," he said. "They looked at it and said, don't worry about it. I went back a few times, telling them it was growing and growing, but they didn't take any measurements of it." And no biopsy report was provided by Kaiser, no new biopsy was taken.
Finally, Robinson went to a private physician in Ventura, who did a biopsy. It was sent to the pathology lab at Community Memorial Healthcare System. But Robinson experienced only more frustration.
"The people there said they had never seen anything like it before," Robinson said. "It was a total mystery to them."
So Community Memorial shipped it off to the Mayo Clinic in Minnesota. At the Mayo Clinic, Robinson first learned that Kaiser had provided a report of their biopsy and that the growth was known to be a malignant. It was at the Mayo Clinic that Robinson was finally informed of his grim diagnosis: it was a malignant fibrous hysteocytoma, a type of soft-tissue tumor called a sarcoma. The doctors at Community Memorial then offered to do the surgery but Robinson was finished with them and contacted UCLA.
Once there, Robinson was told that the specialist at UCLA routinely removed these tumors. "I went through their full treatment regimen in 1987," he said. "The doctor at UCLA said that rather than (Kaiser) helping it by removing it three times, it caused it to become more virulent when it grows back. It had not metastasized, but only by sheer luck.
So I just escaped by the skin of my teeth on that one. It's scary when I think back on what could have gone wrong, but fortunately it didn't."
Robinson considers his cancer a thing of the past. "I've been in remission since 1987," he said. "Now, I don't worry at all. I'm cured of it in my own mind."
He credits his peace of mind to psychological therapy that he received after the treatment was completed. It consisted partly of affirmations, where he repeated positive statements about himself and his health.
"You never let a negative thought into your mind. I think that's part of the healing process."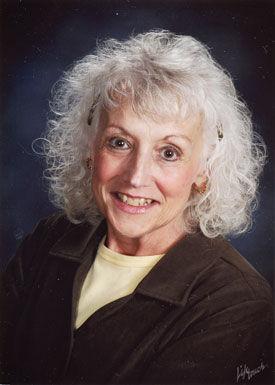 Healing through faith and giving back
Adenocarcinoma of the ampulla de Vater, Stage 2. Barbara Holt, 60, is just finishing up her treatment. Working as nurse, she knew the yellow cast in her eyes and in her skin was probably jaundice, but doctors had some difficulty in pinpointing the cause.
After a new medication was ruled out as the cause, Holt went for two CT scans which did not provide an answer. None of the biopsies were positive. Holt developed a serious case of pancreatitis.
Continuing her search for the cause, she went to Cedars-Sinai Medical Center for an endoscopy and ultrasound. The results were still inconclusive, but the doctor recommended an extreme surgical procedure. It was an extensive and dangerous surgery where the gall bladder, pancreas, duodenum and other organs are removed.
"I went home only six days after the surgery," Holt said. "I had excellent care at Cedars." Now, her prognosis is good.
Holt tolerated the chemotherapy exceptionally well. "I didn't lose my hair even after 17 sessions." But she was still unable to return to work. When her adult son told her she could not just sit around for months on end, she started to attend support therapy groups at The Wellness Community. She continues to participate in weekly meetings.
One of the common fears about cancer is the contemplation of financial ruin. "I did panic about the medical bills, but my faith has helped me a lot," Holt said. "It reaffirmed my faith in God. I have an extended family here and it seems that God always provides."
Holt admitted that every little thing that goes wrong causes disproportionate fear. "The cancer came out of the blue," she said. "I had no idea. I cope by praying. I have a friend that said to me that having come so far in this, do I think God is going to give up on me now?"
Generosity can come from unexpected sources
Emily Fischer, 13, is an eighth-grader at Lindero Canyon Middle School and has never had cancer. Yet she has donated about $200 to The Wellness Community from the sales of her beaded jewelry.
Emily's father had cancer and passed away about 18 months ago. He was diagnosed when she was about 10 years old, and that is when she started going to the center.
"The first couple times there, I was scared that I wouldn't know people or that I wouldn't feel comfortable there," Emily said. "But then it felt like home, and it felt really great to be talking and to have that support system."
Emily still attends weekly meetings for children of parents or grandparents with cancer. Now she helps out with the art classes and talks with the other kids.
"The best thing about being able to go there is, it is people who truly get it, because friends may say they get it but they don't, and they can't really help you with understanding it. The counselors there explained to me what cancer was. They put it in terms that a kid could understand and help them feel secure and safe with it.
Emily said she plans to stick with the organization. "I think, no matter what happens, somehow The Wellness Community will always be a part of me," she said. "I'm going to try to stay connected when I'm older and help out still, even if it is in different ways."   
THE WELLNESS COMMUNITY
530 Hampshire Road
Westlake Village
(805) 379-4777
CANCER RESOURCE CENTER
Community Memorial Healthcare System (in conjunction with The Wellness Community)
147 N. Brent St.
Ventura
(805) 652-5011