Pictured:Carson Peterson will have the opportunity to compete for a spot in the 2022 World Rowing Junior Championships in Varese, Italy, this summer. Photo courtesy Calvin Peterson.
by Nancy D. Lackey Shaffer
nshaffer@timespublications.com
EDITOR'S NOTE:The story has been updated to clarify that the selection camp does not take place in Varese, Italy, as originally reported. While the 2022 World Rowing Junior Championships will take place in Italy, the selection camp will take place in Chula Vista, Calif. The changes are noted below in blue.
Carson Peterson hasn't even graduated from high school yet, but he's accomplished a lot in his 17 years. An avid cook, when he was just 13, he competed on the second season of Top Chef Junior, impressively making it to Episode 11 and placing sixth overall. Now in the 11th grade at Ventura High School, Peterson has been class president since his freshman year and holds a 4.0 GPA. On top of all this, he has excelled as a rower, making it to USRowing's 2021 Youth National Regatta (which took place in June 2021 in Florida) and was invited to the Olympic Development Camp that same year.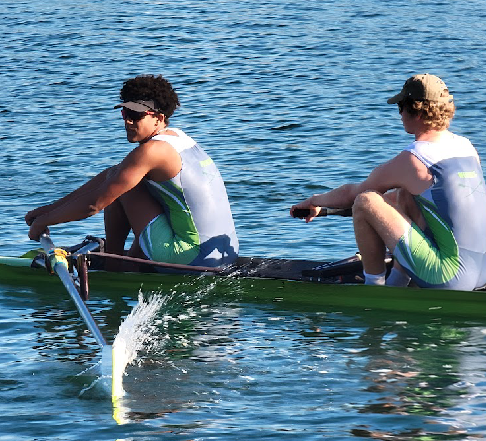 This summer, he'll be heading to Varese, Italy, to participate in a two-month selection camp, where he'll have the opportunity to earn a spot on Team USA in the 2022 World Rowing Junior Championships in the under-19 division, taking place in Varese, Italy. Despite an exceptionally busy school and rowing schedule, Peterson found time to talk to the Ventura County Reporter about his rowing career, his continuing interest in cooking, college plans and more.
VCR: When did you first get involved with rowing? 
Carson Peterson: Rowing came to me in seventh grade at Cabrillo Middle School and I do really mean it "came to me." Casitas Rowing Association holds "erg offs" in local middle schools during P.E. periods in which students do a three-part rotation that consists of nutrition and health inspiration from head varsity men's coach Eric Gillett, a HIIT workout from director Wendy Gillett, and a 100 meter erg. Being the super-tall middle schooler I was, I got on the erg and took off. I ended up with the fastest score at Cabrillo Middle School. This was my first taste of the intoxicating "rowers high," as I like to call it, which over time developed into a craving and is a large proponent in my commitment to the sport today. The top 10 scores on the 100 meter erg were awarded a free summer camp at Lake Casitas [with Casitas] Rowing and a few days after the erg event, I received my summer camp certificate. Just one week at Casitas Rowing was enough to get me hooked. From that day on, rowing has grown to be one of the largest facets of my life. 
What inspired you to start rowing?
What got me started rowing was the free summer camp, but what inspired me to become the athlete I am today is an indescribable drive for success that comes from the sport itself, but also from its history and demographic. Eccentricity is what I would call my MO. I'm a 6'7" Black teenager with a strange, unwavering commitment to wearing a pearl necklace, an "ancient" connection to food and the chef world, and I don't play basketball. Being "different'" has cemented itself in my personality. Rowing gave me another niche that allowed me to feel unique. 
As I got older I began to understand that while my own sense of being different is important, what is more important is how being an African American presence in what can still be described as a white elitist sport affects others. I also understand now that my affinity with being outside the box comes from a societal phenomenon that is a product of racial injustice, where African Americans are often judged for being too "Black" or not "Black" enough and the youth, especially, are pressured to participate in things according to this "Blackness" scale. Somehow, from a young age, I think I saw some part of this in my own life and this realization has affected many decisions I've made thus far. This understanding gave me a more complex drive for success in the sport and I hope this complexity is what will set me apart in my future rowing career. 
What do you like about rowing as compared to other sports?
Rowing is a sport that almost directly reflects the work you put into it. If you ask any rowing coach around the world, "what's one thing that can make a rower successful?" you will undoubtedly hear the phrase, "mileage makes champions" over and over again. Putting in meters on the water and, maybe even more importantly, putting in meters on your own when everyone else is sleeping, is how you get fast. The only aspect of the sport that keeps rowing from turning into a mindless loop of catch, drive, release, repeat, is an overwhelming amount of mechanics, technique and coachability that you have to add on top of speed. 
What I like about rowing is that the fine details and acute theory came to me even before the raw speed and "mileage makes champions" mentality. I was able to appreciate rowing's nuanced personality. Rowing is a sport where if you pay attention, you can feel what speed is. You can feel every movement of the people in front or behind you. Every squeeze, inhale, exhale and push can be experienced with your eyes closed. This is what sets rowing apart from other sports. 
Are you a solo or team rower? 
At Lake Casitas Rowing I am lucky enough to have experience in all boat classes, something a lot of rowers don't get even at the collegiate or Olympic level. The single, double, pair, quad, four and eight [person] are all the classes you can see racing at a regatta. Upper-level crews in high school emphasize team boats, often the eight [person team]. I am in the stroke seat in most boats, meaning that I sit at the front of the racing shell and set a pace and rhythm. 
Are there coaches or athletes that have inspired you in your rowing career? 
All of the coaches I've ever worked with have left impressions on my rowing philosophy and outlook on life. My team coach, Eric Gillett, is the largest contributor in the way I row and my understanding of rowing mechanics. I've rowed with Eric for four years, five days a week, and have put in countless miles with him by my side. Anita DeFrantz is another inspiration in my rowing. In 1986 DeFrantz became the first woman and the first African American to represent the United States on the International Olympic Committee. She also was the first African American Olympic rower. Not too long ago I had the opportunity to talk with this rowing legend and her affirmations and encouragement will stick with me for the rest of my rowing career. 
Tell us a little bit about your rowing accomplishments so far. 
Last summer I was invited to  the Olympic Development Camp (ODP) held by USRowing and joined their High Performance team. I was ranked in the top 6 rowers at the camp and won two gold medals in the eight and pair [events] and a bronze medal in the pair. I've won over 15 medals in my rowing career thus far. Recently I was one of about 30 athletes in the country invited to the United States Selection Camp held by USRowing with the opportunity to earn my spot representing America in Italy for the 2022 Junior World Championships.
Tell us a little bit about your routine. How do you do to keep in "rowing" shape?
I row five days a week from 3:45 p.m. to 6 p.m. and from 7 a.m. to 11 a.m. on Saturdays. At home on top of practice, a normal week consists of five to six hours of erging with some running and/or biking thrown in the mix. One of my favorite things to do to stay in shape is bike ride from the Ventura Pier into Ojai in what's usually a 40-mile round trip on the most beautiful trails. To prepare for regattas takes about a week of upping sodium and water intake to boost hydration and a protein- and fiber-emphasized diet. 
You're a junior in high school now — do you hope to row when you get to college?
Collegiate rowing is a must for me. My focus now is achieving excellence in the high school rowing scene, but my goals lie in collegiate rowing.
Are you starting to think about colleges yet? 
I've been fortunate enough to not only speak with several college coaches over email and phone about recruitment and collegiate rowing but I also have been able to row with and meet these legends in person. Most notably, Coach Stephen Gladstone, who currently is head coach at Yale, who is regarded as one of the greatest coaches of all time, winning 14 IRA [Intercollegiate Rowing Association] titles coaching at Princeton, Yale, Brown and Cal Berkeley [University of California, Berkeley]. 
The schools I am in contact with now include UW [University of Washington], Yale, Brown, Cal Berkeley, UPenn, Harvard and Princeton.
As a Black rower, do you think your experiences have been different than those of your white counterparts? 
What is really important to me is Black success. It is in no way better than or more important than the success of others, but it serves a significant role in the story of African Americans. Black success stories are responsible for the inspiration of millions, and in rowing, this inspiration is desperately needed. 
According to USRowing, only 13% of all rowers are people of color and even less are African Americans. When we ask why this is, we have to remember that rowing is a product of the elite class of 18th century Europe. It would be over 300 years until you could make the rare discovery that Black people can indeed row. Rowing, for many years, has been held away from Black communities and it's time to change that. 
The progress we've made in civil rights and equality among African Americans is unacceptably out of proportion to the presence of Black kids in rowing. As a Black rower, wherever I go, the feeling of heads turning and eyes piercing through me is unavoidable. I've learned to embrace the attention that comes from being unique in one's field. My goal is for anyone who's ever whipped their head around when I walk through a room to one day, in the future, remember that they were looking at a Black success story. 
What's one thing about rowing that most people don't know?
One common misconception about rowing is that it is an upper-body focused sport. I often hear "wow, you must have really strong arms" when I tell people I am a rower. The truth is that while rowing demands strength from all muscle groups, it is actually a legs-and-back focused sport. The legs initiate the power on what we call the "drive" and the lat muscles engage and through connection with your core move your entire body through the stroke.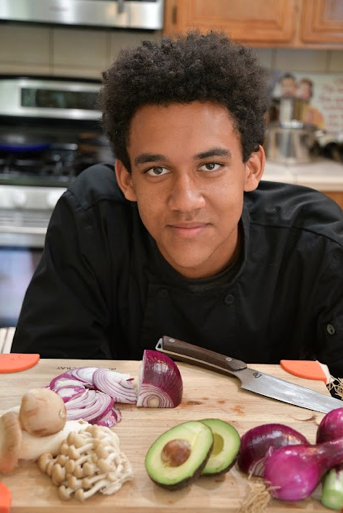 Here's a question for your fans of your time on Top Chef Junior: Do you still cook? Where DO you find the time?
Cooking is a passion that will never leave me. When I'm old and too weak to row, you better believe I'll still be in the kitchen doing my thing. Being a junior in high school, the president of my class, an honors musician, and rowing at the same time is no easy feat. I have great respect for all high-achieving student athletes in the world. While school work and training often occupy all my time, there is the occasional long weekend or holiday break that allows me the opportunity to release all of the culinary epiphanies that have built up over the week. 
What are you looking forward to most about competing in Italy?
Not only will Italy be a chance to row with the best guys in the country and hone my skills in the sport I love, but it will also be a chance for cultural connection. A big part of my love for cooking comes from the Italian side of my family and my Nonna. Going to Italy would no doubt be the trip of a lifetime. 
What's in the future for Carson Peterson — in terms of cooking, rowing, college, career or anything else? Where do you see yourself in 5-10 years?
I think the only thing I can certainly tell you is that I will continue to row (and cook ) in college. From a young age I have been lucky to identify two passions in my life, so I think it won't be hard to find the thing I will spend the rest of my life with. Perhaps what I will do in the future is something I am already doing today. I am not certain about the long term but I can say that whatever I do, I will be faithfully committed to Black excellence. 
---
Carson Peterson and his family are raising money for his upcoming trip to Italy for the U19 Rowing Junior World Selection Camp, which determines which rowers will represent the USA in the 2022 Junior World Championships located in Varese Italy. To contribute to the GoFundMe campaign, visit www.gofundme.com/f/2022-rowing-junior-worlds-selection-camp.
For sponsorship opportunities, email rowcrewventura@gmail.com.
For more information on the 2022 World Rowing Junior Championships, visit worldrowing.com/event/2022-world-rowing-junior-championships.
For more information on Casitas Rowing, visit www.casitasrowing.org.