When the fire alert rang on the phone around 11:30 p.m. on Monday, Dec. 4, residents along Ventura Avenue in Ventura were already under mandatory evacuation and fleeing from Grant Park under siege by Thomas. About five hours before, friends in Santa Paula had been sending photos of their view of the beginning of the soon-to-be-fifth largest wildfire in California history, though that designation may change by the time it is fully contained. By Wednesday, however, trying to keep up with the ever-changing conditions, evacuations, victims/survivors, arrival of hundreds of fire agencies, etc., was nearly impossible. On Thursday, Dec. 7, with a new work-week ahead for editorial staff and Thomas still raging, covering the fire had become an enormous task. From the obliteration of Ondulando and Clearpoint to destroyed homes along Foothill and above Poli to the fire circling Ojai and unincorporated north Ventura County, home to numerous ranches and countless animals, and the spread to La Conchita and beyond, priorities were complex. With so many stories to share, we had to narrow it down to a handful. If you would like your story included, email editor@vcreporter.com with photos and your personal story. — Michael Sullivan, Michael@vcreporter.com
Matt Johnson and family
Mike Esperance, whose one-bedroom apartment had been destroyed by the fire, had a few friends meet him out at Vintura in Downtown Ventura. Amber Knight, 43, was one of them. She talked about how her family's home in Ondulando, which had recently been renovated, had been destroyed. It housed her brother, Matt Johnson, 30, her mother and stepfather, and her grandmother, 82. They have all relocated to a condo in Port Hueneme that had been for rent. Johnson took us to his home on Monday, Dec. 11.
"I don't make any plans of any sort right now," Johnson said. "We are just buying stuff, clothes, furniture, washer, dryer. My stepdad is in real estate and a client of his isn't using [a condo] right now and said we could use it for whatever we need. Grandma's staying with grandpa, once married, both remarried since then, but came full circle."
He recalled the fire coming up over the ridge on Monday night.
"My mom and stepdad were in bed, grandma probably asleep. I was on the back patio and noticed big glow," he said. He then ran up to his parents' room,  " 'There's a fire.' They kinda brushed it off. They've seen a few fires and they never got close. I ran back downstairs and it quadrupled in size in less than five  minutes. Then I ran back up. 'We need to go!' "
His grandmother, who is disabled, needed help moving and they grabbed their two Pomeranians
"I pretty much escaped with clothes and contacts and wallet and passport," he said. "Police were already on street telling people to leave. It started at 10 and we evacuated around 11. It was just before wind had gotten really bad. Couldn't have been long. We were mostly ready; we forgot things we shoulda gotten. I didn't know what was happening the first four days."
Johnson talked about how there was only one fire truck he had seen as he was leaving. "Actually [our neighborhood] was still in process of replacing new hydrants." Ondulando's hydrants were not working due to a combination of low pressure and a power outage that prevented the pumps from working.  Johnson and his sister went back the next day.
"I was there on Tuesday. My sister and I parked off Victoria and Loma Vista and walked all the way up there. Heck of a lot of smoke.
"We could see burned houses right away. We were entranced, I wondered if orchard below was OK. We were looking at beautiful homes burned down to ground. We were covering faces with shirts up to our neighborhood, passing homes we see every day going home, cars with tires melted to street, metal from all things in the houses dried on driveways. We eventually made it to our street, my heart thumping in my chest made worse with smoke inhalation. Even some firefighters were spraying, some houses were smoking and on fire still. When we did finally get to our house I just collapsed in the street; two-thirds of my life was spent in that house. I am only one currently living there who has seen it. Tears were rolling out, no control. My sister was emotional and kept herself stronger from me, hugging each other crying for a while."
All that was left was "two Chimneys, two of three water heaters and tile [shower], assorted lawn ornaments. It's all gone. I would have grabbed movie collection, DVDs, Blu Rays, couple of binders and was right next to what I had grabbed …. The worst shock of it has passed but I am starting to shake," as he exited the car to see for the second time his destroyed home. We hugged.
"It's personalized, you really don't get it until happens to you," Johnson said, thinking back on other news of wildfires and devastation in the state. Looking around, other houses remained unscathed.
"I am glad some things are standing," he said. "One of main reasons I am doing this [story] is with the hope that it will make some appreciate what they have or console them in some way."
He talked about his neighbors, a couple who had just moved in and renovated their house. It burned down. He also talked about the sushi restaurant he worked at; the owner's home burned down too.
He talked about coping with the loss.
"The entire week we have just been trying to lighten up and laugh. People keep saying so sorry so much, but it doesn't really change anything," he said. But his perspective had both a positive and a negative.
"Looking at this, very devastating. I was weighed down by things in my past but literally my baggage has been burned away."
As we prepared to leave, he talked about a few other things he would miss, including a crocheted lion rug and the family photo albums.
"All pictures of me and my sister are gone. Am I going to forget what I looked like as a kid?"
Johnson would go back to work the next day and then to his temporary home in Port Hueneme. He talked about how his mom had been holding steady until she had to cancel all the utilities. She had planned on coming up to start working with a contractor, but the area was still under evacuation and under watch of the National Guard.
Veronica and David
Sitting in the chair for a regularly scheduled teeth cleaning, there was talk about a patient who had lost her home to the fire. In the waiting room, her husband, David James, 58, was holding onto a copy of the VCReporter. He then opened the paper and noted the picture of the Hawaiian Village Apartments, relaying that he and his wife had just moved into the apartment in June and that they had lived away from Ventura for roughly 35 years. The couple were on vacation in Cuba when they got the call that their apartment complex had burned down. Veronica James, 54, walked into the waiting room, holding a purple orchid. She was OK at first and then broke down in tears. They talked about having to move back in with her stepfather and his wife who has two broken arms from a fall before the fire; Veronica's mother died years ago. They agreed to meet on Sunday, Dec. 10, at the former site of the Hawaiian Village apartments.
"We traveled the world for eight years, and coming back to Ventura, we didn't have a lot of stuff but 16 boxes of the most important things I had," Veronica said. "We emptied 16 boxes when we got here."
Veronica talked about the long wall in their apartment where she had displayed many of those memories, now ashes. Both reminisced while pointing to the Crowne Plaza, about how they met in January 1982 when David, from Nashville, had a gig with his band the Gypsy Martin at the former Holiday Inn at the Crow's Nest. His brother, who played in the band, had a date with Veronica's roommate after the show and David and Veronica met that night.
"I was a bit smitten," David said, talking about how they would write long letters since long-distance calls were so expensive back then. David, a professional guitarist playing country, Cajun and classic rock, then hooked up with a band in El Centro to be closer to Veronica so they could get to know each other. By August, he asked her to join him in Nashville and she agreed. She had not lived in Ventura since.
"We got married, settled down and had kids, the whole thing," David said.
They talked about how scattered their family was, with one daughter a journalist in Paris, another daughter in New York working as a makeup artist, and their son in Alaska working as a pilot. The couple talked about living in Saint Croix, Virgin Islands, from 2001 to 2008, and how, when Hurricane Irma hit this year, Veronica started a GoFundMe campaign to raise money for locals. With Thomas Fire having taken their home, their kids told them they wanted to start fundraising for them too. Veronica said no, at first, but their kids did it anyway and the generosity was overwhelming. 
"They insisted," she said with tears in her eyes, "the outpouring of love keeps me going."
While Veronica and David chatted, looking at the remains of their apartment complex from the nearby hillside, a young man, William, in his 20s, was gathering what he could from his studio apartment that had burned down. The two neighboring houses had remained intact.
"I grew up here and just want to get out of my parents' house and now I am going to go back to parents," he said. "Looks like a Universal Studios tour," as he rummaged through the charred remnants. 
He talked about how he was taking pictures of the fire from his house, but it got so close that he no longer needed long exposures. 
"This is bad," he said. "No warning, no emergency alert, went to parents house in Ondulando and evacuated them. … My parents' house is still here. He [dad]saved his house. Everything behind and two doors down, other side of neighborhood [was gone]. Luckily parents have motorhome; we've been glamping."
Ondulando and Clearpoint remained under mandatory evacuation as of Dec. 12.
Chris Snyder and family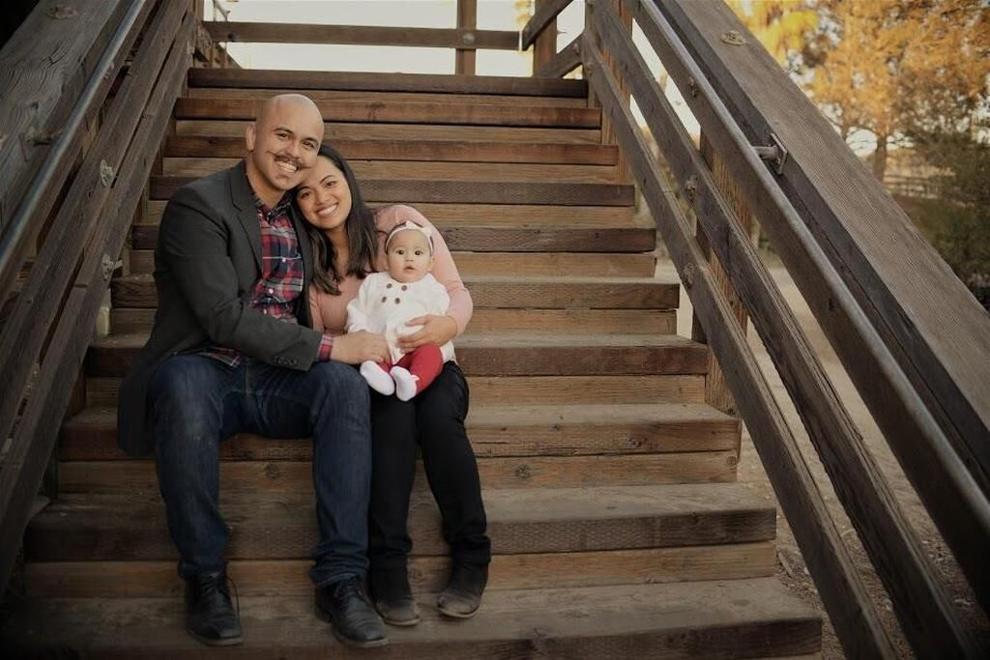 by Chris O'Neal
Chris Snyder was a Downtown Ventura resident, before the Thomas Fire. He and his family, girlfriend Linh and their 6-month-old daughter, Matilda, were residents of the Harbor View apartment complex on North Kalorama, a building that, along with the Hawaiian Village apartment complex just a block away, was destroyed by the fast-moving wildfire, late night, Monday, Dec. 4.
Thirty-seven of the 90 units at Harbor View were destroyed.
At approximately 11:57 p.m., Chris and Linh were awakened from their sleep by a mandatory evacuation warning; it was then that he noticed that he had 12 missed calls from friends and family.
"OK, we probably have, at the worst, half an hour to get ready," said Chris of his thought process as Linh gathered supplies for Matilda.
At 11:59 p.m., Chris stepped out onto his patio facing the hillside and a small canyon that runs through it directly across the street. A small line of fire could be seen progressing. Chris turned inside to help with Matilda, and when the couple opened the door again, they were met by flames.
"We were immediately surrounded by fire and smoke," said Chris. "Everywhere. I immediately thought, 'Oh, I fucked up. I can't believe it moved this quick. Why didn't I get my family out sooner?' "
The family was the last to evacuate the Harbor View Apartments before the fire consumed the complex.
"Probably lost my car," Chris says he thought as the family fled, but he didn't consider that they'd lose the apartment. It wasn't until Linh saw a Facebook feed of the complex on fire that it began to hit them. "It wasn't even real yet. We were still joking around and cracking jokes."
The following day, the family went to a local market to replace goods. They had a pack of underwear for Matilda. Chris says that's when they began to feel immense loss.
"It wasn't just like 'Oh, we lost everything.' It was more like: We lost the pictures, the crib, my family mementos," said Chris. "My father had an Air Force ring, the one family heirloom I wanted to keep, and that was gone. My passport. My daughter's social security card. All the important documents that I wish we would have packed and thought ahead, we forgot. The whole time we thought we were going to be back here with maybe some smoke damage; it wasn't supposed to be the end of the world."
Friends and family came together to support Chris and Linh almost immediately, with a friend launching a GoFundMe fundraiser to support the Snyders, who now make temporary residence in Thousand Oaks. As of Tuesday, Dec. 12, the fund has raised $15,970. The Snyders rented their apartment and did not have insurance.
"What's been so incredibly moving is how much support we're getting from everybody," said Chris. "From our jobs, friends, family, and not just a little bit, but people are giving way more than we could imagine. … It makes us so emotional, so grateful. We can't even put it into words."
Harbor View Apartments Resident Manager Jeannette Frescas Albeck will host a benefit for the residents who lost their homes on Sunday, Dec. 17, at Discovery Ventura, 1888 E. Thompson Blvd., Ventura, noon-2:30 a.m. For more information, call 218-8943.
For more information on the Snyder family, visit https://www.gofundme.com/help-chris-linh-matilda.
Susan Scott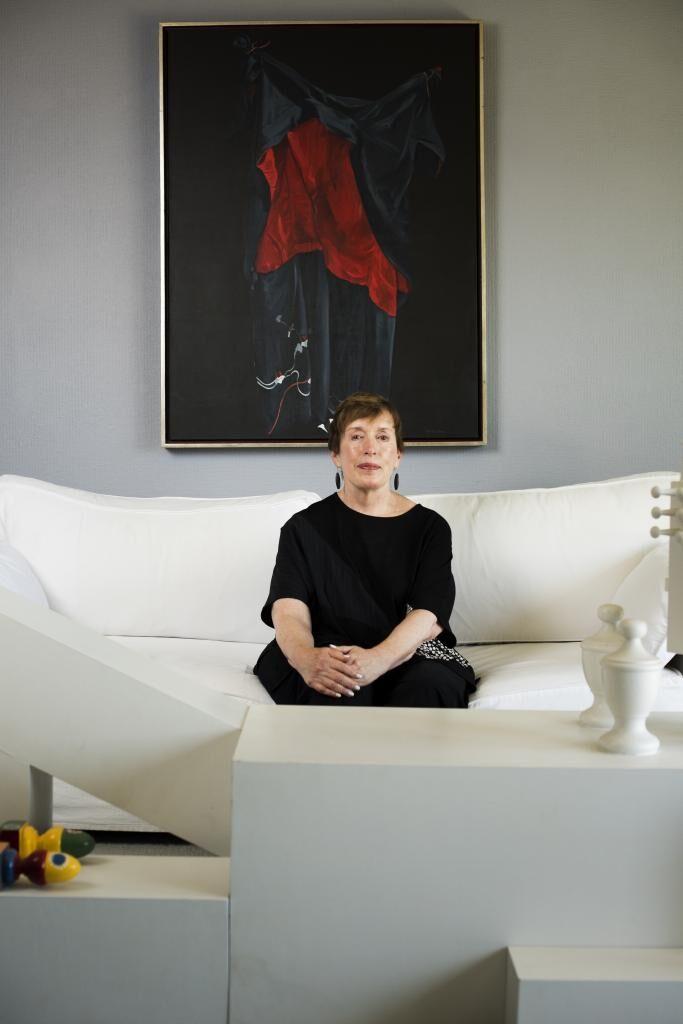 by Nancy D Lackey Shaffer
"Under the circumstances, I am OK."
Susan Scott is keeping things in perspective. No mean feat for someone in her shoes: The Ventura Music Festival (VMF) executive director and longtime arts advocate lost her home — and everything in it — when the Hawaiian Village Apartments complex burned to the ground in the wee hours of Tuesday, Dec. 5.
Scott remembers losing power and water around 10 p.m. on Monday ("It was pitch black," she recalls). By 11 p.m. she was getting nervous. Without electricity, she had no access to information, and she could see the glow from the flames and smell the smoke. Going outside to have a look around, Scott noticed that several cars normally parked on her street were gone. She took that as a sign and left, with nothing but the clothes on her back. She didn't realize just how precarious her situation was. 
"It never occurred to me that the complex would go down," Scott says.
In addition to her photographs, clothing and other personal effects, Scott left behind an enormous and eclectic art collection amassed over decades, which included antiquities, works by local artists, Sabino glass and lamps from the famed Diego Giacometti. It was an accumulation of unparalleled beauty, possibly worth hundreds of thousands of dollars.
Scott's collection was so extraordinary that it was featured in the September Home and Garden issue of Ventana Monthly (like the VCReporter, a Southland Publishing publication), which celebrated her chic apartment as a "Gallery With a View." Now, those magazine pages are all she has left of "a lifetime of collecting," Scott notes.
We all get by with a little help from our friends . . . as does Scott. VMF board member Michael Boyko, president of Reardon Funeral Home, took her in, giving Scott a home in his rooftop apartment above the funeral home until she can get back on her feet. "I'm so grateful to him," she says. She's also grateful for having VMF's offices to go to, keeping her focused and filled with optimism for the upcoming season.
Scott is still picking up the pieces, and hasn't quite had time to hunt for a new home just yet. "I don't relish at all walking into an empty space . . . that whole aspect of starting over again," she says. But she is carefully cataloging her now-lost art collection for the insurance companies. In addition, several artists (who have become friends) have also reached out, "happy to gift me art" to restart her collection. Painter Elana Kundell (from Studio Channel Islands), jewelry artist Brenda Corby and Port Hueneme ceramicist and conceptual artist Tom McMillin are among the many who have been in touch.
"I'm so grateful for the outpouring of support," Scott says. "There's sadness for sure. But I will celebrate and honor what was."
"You need to call on some inner spirit and strength [in times like these]," Scott concludes. "The fact that I have heard from 60 people . . . that's very spirit building."