In the largest criminal indictment in the history of Ventura County, 27 indictments were handed down to local gang members accused of conspiring to commit felony assaults, extortion, home invasion robberies, narcotics trafficking and other organized criminal activity.
It was announced by Ventura County Sheriff Geoff Dean during a press conference on Tuesday, Nov. 27, that a high-ranking member of the Mexican Mafia, or La Eme, was coordinating all of the criminal activity from a prison outside of California for the financial benefit of the Mexican Mafia, a highly organized prison-based gang.
"This was the first time we have seen a central shot-caller call around to different gangs in the county, and he brought them together to commit crimes," said Dean. "It's really unusual for us to see. Gangs normally opposing each other were going together because the shot-caller was such a high level in the Mexican Mafia they knew they had to comply. "
The indictment alleges that local gangs were receiving orders from Martin "Evil" Madrigal, who is in prison on unrelated charges, and local gang member and Mexican Mafia associate Edwin "Sporty" Mora. Local gangs, who are otherwise deadly rivals, were forced into conspiring to commit organized crime, while also being extorted and taxed on their drug sales by the Mexican Mafia.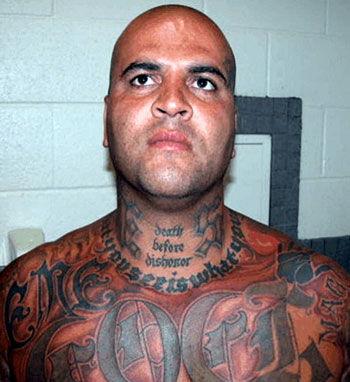 Martin "Evil" Madrigal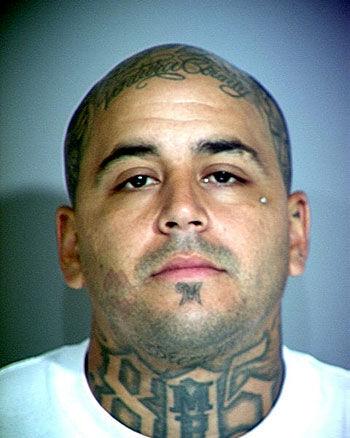 Edwin "Sporty" Mora
While the gang members trafficked and sold all types of drugs, Dean said, they are deeply involved with the heroin sales in Ventura County, which he referred to as reaching a "tragic level."
The seven-month investigation, known as Operation Wicked Hand, began in April when investigators linked a pair of shootings in Moorpark to a local heroin bust. Operation Wicked Hand resulted in the seizure of 32 firearms — 12 handguns, 12 rifles, four shotguns, three assault rifles and one MAC-10 (Military Armament Corporation Model 10) with silencer — $36,000 and a quarter pound of heroin.
Sixteen additional suspects are expected to be arrested in the ongoing investigation.
Dean said that during the past seven months investigators were able to interrupt several violent crimes before they were carried out.
"These are hard-core criminal gang members," said Dean. "They wake up every day and try to decide where to commit crimes that day and victimize people of this county. We will remain vigilant. We can't become complacent because we live in such a safe area. These gangs are active and involved everywhere. Justice is coming for the many criminals involved in this type of activity that would jeopardize the safety and lives of our families here in Ventura County."
Each of the 27 accused (25 adults, 2 juveniles) in the Nov. 14 indictment face 35 felony count, said Ventura County District Attorney Greg Totten.  He said his office is still calculating the maximum exposure for each defendant. Many, Totten said, are being charged with multiple offenses, and exposure is significantly longer than seven years. Three defendants face multiple consecutive 25-to-life sentences because of California's three strikes law. Bail ranges from $1 million to $5 million and no one has yet posted bail.