Greek House Cafe
2375 Sycamore Drive
Simi Valley
955-9899
$2.95 – $12
Tucked at the end of a shopping plaza, Greek House Cafe was hard to find, even with a GPS continually repeating, "You have reached your destination" over and over in a tinny robotic voice.
Inside, maps and pictures of Greek deities blanketed the walls. Upbeat Greek music that made me want to dance circles around the room twanged over the stereo.
At the back of the room was a large illuminated menu, and underneath it a petite Greek couple waiting somewhat impatiently for us to place our orders.
The wife sported black reading glasses and a strawberry-blonde up-do, sort of like an older Barbarella. The husband's brown hair, large square glasses and physique at times belied his age. Both had thick accents and were ready to cook our order five minutes before we even started to speak.
The menu marquee above didn't fully explain what came with what, and it was obnoxious to stare upward, craning our necks to try to sort it out. We found the paper to-go menus much easier to work with.
There were all the Greek standards: hummus, gyros, kebobs as well falafels, pistachio and a famous lemony chicken Avgolemono soup that I rue not bringing home for dinner.
The Barbarella-esque owner recommended the lamb kebob plate so my companion chose that, and I tried the Greek combo plate.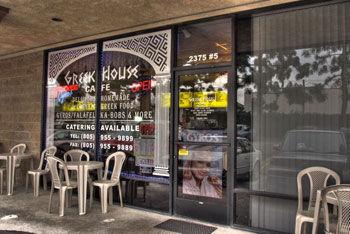 Just when I thought I was finished ordering, a pan of baklava to the left of the register started beckoning. As I whipped out my credit card to pay, I was met with frowny, tsk-tsk stares. Be forewarned: Greek House Cafe accepts cash only.
After we paid, the grill immediately started to sizzle and the owner dished a dripping slice of baklava onto a plate. We sauntered toward our window table with a bottle of Pellegrino and the baklava.
Hungry beyond belief, we couldn't wait, and took demure bites of the honey-soaked, cinnamon-spiced, nut-filled layered pastry, all while pretending we weren't eating the whole thing. Just as we were almost completely beyond control, our orders appeared.
The husband of the couple put our plates on the counter and peered intently at us through his glasses. We took our cue, rose and quickly picked them up. "Let me know-a how you gonna like-a," the wife said in her thick accent.
The plates were generous and my companion immediately wished he'd ordered mine because of the variety, rather than his lamb kebob plate of rice, salad, tzatziki sauce and pita.
Both of our dishes featured pita bread that was beyond belief. "It's the consistency of the perfect cookie. … Nooo! A pancake!" oozed my companion as he chewed. The thick pita was cooked on both sides so the edges were crisp while the inside remained lightly chewy. I noticed the gyros were wrapped in the luscious pita as well, and I'm sure that alone makes them delicious.
My companion's lamb kebob was char-grilled on the outside and, though well-done, was still moist. His tzatziki of homemade yogurt and shredded cucumber was hot with raw garlic. Dipping thick, doughy pita triangles into its spiciness was exciting.
My plate had roasted lamb slices that melted in my mouth. A bite of the simply flavored roasted lamb and the buttery rice was like sitting down to Greek Easter lunch. We both found the roasted lamb superior to the kabob meat.
My plate also had a rustic, hearty piece of moussaka. Thick chunky slabs of deep purple eggplant peeked through layers of finely ground beef. It was toasty brown, topped with a rich, creamy béchamel sauce. I danced between wanting more salt and appreciating the flavors as they were, and ultimately chose not to add more.
My dish also featured tyropita, Greek cheese pie, with pungent feta cheese sandwiched between layers of puff pastry. Simple salads graced both our plates. They were shredded greens, tomato, cucumber, feta, sliced red onions and a kalamata olive with a Greek vinaigrette.
We also ordered a couple of dolmades (ground beef- and rice-stuffed grape leaves) which came with a lemony egg-yolk sauce on top. Two tiny dolmades, each roughly the size of an index finger, cost $2.95.
My plate was $11.25 and I couldn't eat everything on it. My companion's, at $8.95, was just enough food for him, though, again, we preferred mine.
A strip mall in Simi Valley is not the first place I'd think of for authentic Greek food, but lo and behold, there it is. What appeared to be lacking in ambience was made up for by the authentic Greek personalities of the owners, the flavors they cook to order and the zesty music. To put it in the words of one of the owners, "We like-a, we like-a a lot."