Timothy Ortiz was 6 years old when he faced an opponent in the ring during his first amateur fight. But long before his first match as a child, boxing was in his blood.
"It wasn't like I was taken to a gym — I was born into a gym," said Timothy, now 20, of Simi Valley, who goes by the ring name Kid Hollywood. "Boxing is a lot more for me than it is for another fighter. That's what I feel like I have over a lot of other fighters. They were taken to a gym when I was pretty much in here from the start."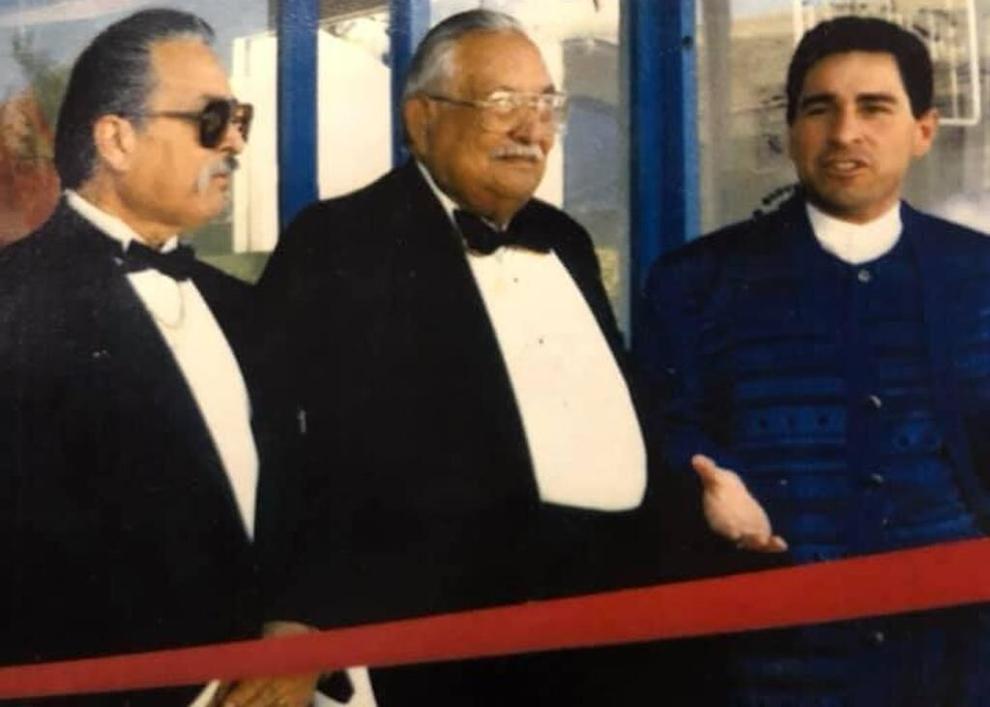 As one of five generations of boxers, Timothy is among a rare breed of fighters, including his great-great grandfather, Alfonso Ortiz, his great-grandfather, Mike "Top Dog" Ortiz, his grandfather, Robert Ortiz Sr., and his dad, Robert "Scrappy" Ortiz Jr. In the United States, the Ortiz family joins a small handful of other families with multi-generations of boxers, including the Ali family, the Frazier family and the Mayweather family.
In other rare occurrences, most recently, Timothy and his dad, Robert Jr., boxed on cards one week apart during Hollywood Fight Nights at Avalon Hollywood. Timothy's four-round pro debut on March 24 earned him a TKO in round three against Anthony Torres, and his father's comeback fight after several years on March 31 against Misael Chacon was a draw.
For father and son, these bouts meant more than the thrill of competition in the roped-off square. They both believed they were being watched over by the late Mike Ortiz, Robert Jr.'s grandfather, who passed away in Las Vegas in October last year. Prior to his death, from his hospital bed, Mike Ortiz gave his grandsons the following words of encouragement: "Keep on working, keep on training, keep that jab going, bob and weave, and get this fight going — and win. I love you very much."
"No one will beat me"
Timothy fought on the undercard of the Serhil "El Flaco" Bohachuk vs. Cleotis "Mookie" Pendarvis fight. He stopped his opponent in the third round with a powerful body shot that dropped Torres to the canvas after a series of punches. This was especially impressive, his grandfather said, considering that his opponent is a southpaw, who can be extremely challenging to box for an orthodox fighter.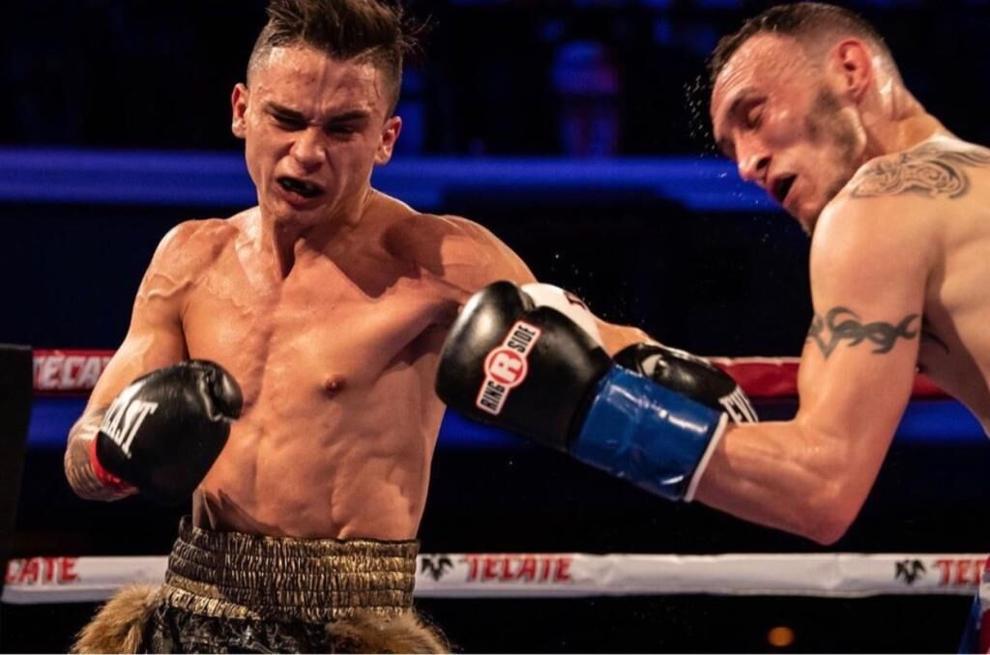 During the fight, "the commentators said 'he's thinking too much; he needs to throw more punches,' " Robert Sr. recalled. "But he was analyzing the southpaw. I saw him thinking and thought, 'he's got this,' and he made the guy miss."
Timothy's opponent is also older, having about a decade of maturity over the young Kid Hollywood.
"A man hits differently than a kid," Robert Sr. emphasized. "And we found out the guy's an MMA [Mixed Martial Arts] fighter and had a championship belt. When we looked him up and saw him fight, Timmy said, 'I can beat that guy.' He studied him and dominated the fight."
Shortly after Timothy's bout, he was interviewed by a reporter with Villainfy Media, who praised the young man for showcasing an impressive pro debut with his power, speed, footwork and patience.
"I felt comfortable the entire time," Timothy said, adding that his goals are to prevail in at least five more fights this year. "I'm on top of the game and I know I'm gonna stay on top of the game — no one will beat me," he said, adding, "This is something I've been wanting so long I cannot even put it into words right now." During the interview, Timothy's father said that walking his son into the ring "made me want to cry," adding, "he's made my grandfather who just passed away so proud right now . . . that was his dream, to see him get in the ring and I know he's watching him right now."
Scrappy's comeback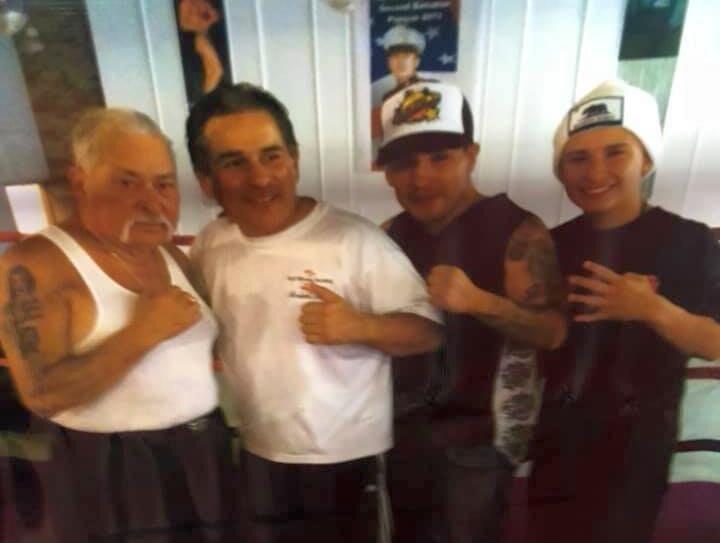 Before his comeback fight on March 31, several years had passed since Robert Jr.'s last fight. During that time, he sparred with numerous championship fighters, including Robert Guerrero, who held world championship titles in two weight classes; Brian Viloria, a former unified World Boxing Association (WBA) and World Boxing Organization (WBO) flyweight champion; Manny Pacquiao, the only eight-division world champion in the history of boxing; Sergey Lipinets, a boxer and former kickboxer who held the International Boxing Federation (IBF) light-welterweight title; José Celaya, a former WBO NABO (North American Boxing Organization) welterweight champion; Vinc Pichel, an MMA fighter who was also a contestant on The Ultimate Fighter: Live; Naseem Hamed, who held multiple featherweight world championships; and Joel Casamayor, who held world championships in two weight classes.
"I stayed in the gym and stayed active," said Robert Jr., now 37. "I know a lot of fighters say that's different than fighting in the ring. But I stayed in there with a lot of pro fighters helping them get ready for their pro fights."
In the interim, there were a few fights he prepared for, but typical to the fight game, the bouts would fall out for a variety of factors: the promoter would pull out last minute, or one of the contestants would back out due to an unexpected injury or other issues. Nevertheless, "I never wanted to give up on my dream," Robert Jr. said, further adding, "I went through a situation that kept me out completely for awhile."
Murder for hire
This situation involved a murder for hire — conspiracy and solicitation to commit murder on Robert Jr.'s life. Looking back, he said, "a lot of my family and friends don't know what happened to me — I'm ready to come out with it."
The situation, in part, revolved around a woman, the mother of Robert Jr.'s daughter, Teagan, now 7 years old. In the end, in December 2015, a jury found Brandon Michael Adams not guilty of felony conspiracy to commit murder, a charge involving an alleged plot to kill Robert Jr. The jury did find Adams, then 31 years old, guilty of felony solicitation of murder, among other crimes.
"It was more of a jealousy thing," Robert Jr. said in retrospect. "I was with Teagan's mother . . . but before that she was with [Brandon] and she broke up with him, and me and her had a relationship. When we split up, in between that time, they went back together, and he could never get out of the part that me and her had a child together."
According to Robert Jr., while Adams was in prison, he wrote him a letter, saying "he always had a form of jealousy . . . he couldn't get over the situation of us having a child." In another odd twist in the case, "a friend of his got arrested and he tried to say that I went and ratted on him. But it all came out that was a lie. It ruined my name because they tried to make me look like a snitch. But the truth came out that I never did anything."
Few people knew what was going on in Robert Jr.'s life during this terrifying time, when he said "This guy wanted me kidnapped and tortured, my tongue cut out." His son was 14 years old when this was going on, and to make matters worse, "He said if Timothy was around, go ahead and hurt him, too."
The situation caused both his daughter and son to be traumatized, he said, with his daughter frightened every time there was a knock at their door, and his son suffering from nightmares, "worrying about his father dying."
Adams ended up getting out of jail about a year ago, because "he did his time served and that new law with the felons," plus, Adams' parents got him a great lawyer, Robert Jr. said, so "all together he got 10 years, then it was counted down to time served, then he got work furlough — they put him in fire camp and when you're in fire camp you get less time, so he got out earlier. And on top of that, I went to get a restraining order . . . because I was worried for my son, my daughter and my new baby boy." Adams' parents got him great legal representation, Robert Jr. said, "and he got out of the restraining order."
"I had this hunger in me to fight"
Although Robert Jr. knew that Adams was out of jail, "I had this hunger in me to fight. Not only that, I wanted to be able to train next to my son. I felt like my career was taken away from me because of the situation; my dream was put on hold."
While training for his comeback fight helped take his mind off things a bit, "I believe no fighter is 100 percent going into the ring; you're going to have an injury; you're going to have thoughts in your mind. It was a stress … until I knew my brain was ready."
On March 31, which marked his 12th pro fight, "I didn't feel ring rust; I felt where I was supposed to be. I felt back at home." He felt good about boxing Misael Chacon, a fighter with more than 23 bouts who won his last fight by knockout.
"I'd been off, but I put myself to the test. Since the fight, I'm ready to fight again; I've never felt so comfortable," Robert Jr. said. "My victory was just stepping in the ring."
Today, "I know I have that fight back in me, and want to fight at least six more times then have that retirement and give this all to my son . . . make a name for both of us then it's all about him."
Kid Hollywood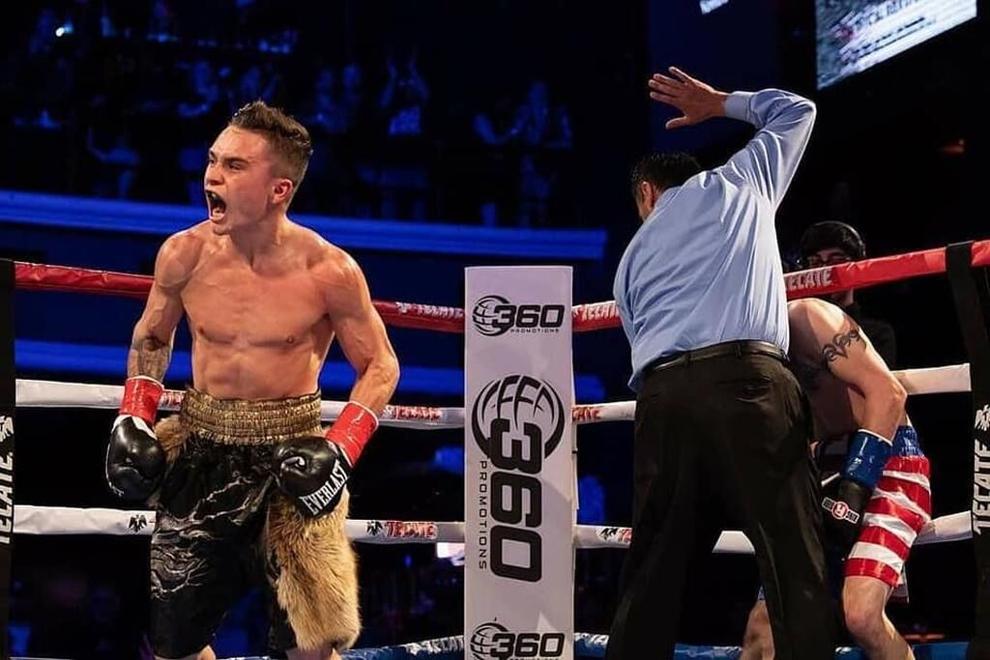 With 20 amateur fights under his belt, and after a tremendous victory at his pro debut, Timothy is ready to fight again. Looking back on his life so far, he said his urge to turn pro sparked around age 12, but even before that, "I loved boxing." He tried other sports, like football, soccer and baseball, but his heart always came back to the ring.
"It's the challenge, it's something you gotta overcome, and it's not like you overcome it and that's it," said Timothy, who also earned a California State title as an amateur boxer. "Like with football, you make it to the NFL, and you overcame everything. With fighting, you have to overcome every single time that you have to go into the ring."
When his grandfather would promote him, people in the boxing game would say, "he's only had 20 amateur fights — that's not enough, I've had guys with over 100 fights," Robert Sr. remembered. But he believes "when those guys have to turn pro, and they're all punchy, then you're going to worry about what you're invested in. Are you going to invest in somebody who's up-and-coming that has his smarts, and will continue having his smarts?"
Fighters who've had too many amateur bouts or fought numerous smokers during their boxing careers "only last a couple years because they're too punchy by the time they get to the pros," Robert Sr. said. As far as his grandson's boxing career is concerned, "we didn't want him to take the same kind of punishment in amateur boxing . . . we wanted to save his mentality."
For Timothy, Kid Hollywood stands for "flashiness and drama," he said. "My style is more of a dramatic style. I want to bring something different every time — entertainment. The whole reason with my pro fighting . . . I want to bring entertainment to fighting. I feel like boxers have become very bland where they think there's only one way to do it — be a tough guy. I know there are different little holes that can be filled, and that's where I'm going to come in."
Kid Gloves
The Ortiz fighters train at Kid Gloves Boxing in Simi Valley, which Robert Sr. has operated in town for 26 years. The gym, currently located at the Simi Town Center, previously operated in two locations, the first on Los Angeles Avenue, which was destroyed during the El Niño rains in the late 1990s, and then relocated to Tapo Street with help from local fundraising efforts.
"My gym is the longest lasting gym in Simi Valley — no other gym has stuck it out this long," said Robert Sr., a veteran who served in the Marine Corps. "We've been very successful because of the passion and love that I have for what I'm doing. And I am truly blessed because of the tools that God gives me … and the legacy I'm keeping alive."
That legacy is Frank Goodman, the founder of Kid Gloves, who mentored Robert Sr. and his brothers when they were young. Goodman was an intercollegiate lightweight champion, promoter, trainer, manager, referee, television boxing show producer and host; as well as an author and owner of gyms and boxing schools for boys in his native Philadelphia and Los Angeles.
Robert Sr. opened Kid Gloves in Simi Valley 26 years ago as a place where fighters could train, but with a special focus on latch-key kids who had nowhere to go, especially unattended after school, and would be out getting into trouble otherwise. They'd be required to finish their homework in exchange for gym time, in which they'd punch the heavy bag, skip rope, shadow box and perform other athletic tasks while in the presence of real fighters who'd serve as positive role models. The kids also participated in Robert Sr.'s boxing class for children, where'd they'd learn discipline through training, and would be asked to repeat a concept that Robert Sr. recites to this day: "ABC Backwards — Conceive, Believe, Achieve."
In current efforts, Kid Gloves is the training spot for professional boxers and MMA fighters, as well as numerous fitness classes. One of the gym's signature offerings is called "Punching Out Parkinson's," a zero-contact training method that involves exercises associated with boxing, including moving back and forth through shadow boxing, hitting the focus mitts and moving side to side using a double-end bag. According to scientific research, these movements help create neuroplasticity, also known as brain plasticity, which actually helps the cells guard against Parkinson's disease.
In future efforts, Robert Sr. plans to "bring boxing back to Simi Valley" with bouts every other month for the community, while simultaneously honing his skills as a boxing promoter. Meanwhile, he is planning his son's and grandson's next fight, which he hopes to have on the same card, this summer.
"I got my start by somebody who opened the doors for my family, and how he treated us was the most respectful way, and that's where my respect comes for other people and helping people out," Robert Sr. said. "I worked my butt off to get what I got, to be able to keep somebody else's legacy going, and it's a blessing to me."