Spin Rotisserie and Spaghetteria
11492 N. Ventura Ave.
Mira Monte (Ojai)
633-9201  
$2.95-17.50
---
When Stefano and Tammy Bernardi opened Osteria Monte Grappa in Ojai in 2009, and then moved it to the arcade in 2011, an era of fine northern Italian cuisine dawned in downtown Ojai. Most nights it is overfilled with locals and visitors alike clamoring for tables in this bustling location. About two months ago in the Mira Monte strip mall section leading into Ojai, the Bernardi's realized another dream — fine-quality takeout at a reasonable price, utilizing farm-fresh local products whenever possible and opened their next restaurant in the Bernardi culinary empire: Spin Rotisserie and Spaghetteria.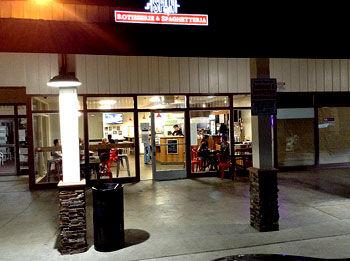 Located in the Red Horse Plaza
Located in the Red Horse Plaza between Rite Aid and Starbucks, the small storefront that is Spin is hip and clean, bright red chairs and shiny black tabletops, an open kitchen/prep area with an ordering and pickup area in front. Not quite self-serve, if you decide to dine in you are given a marker and your food is brought to your table. Wine and beer are available, plus artisanal craft soda. I particularly like the black cherry infused with tarragon. Spin's concept is modern and efficient, and the appetizing food offerings will certainly make it another dining crown for the Bernardis.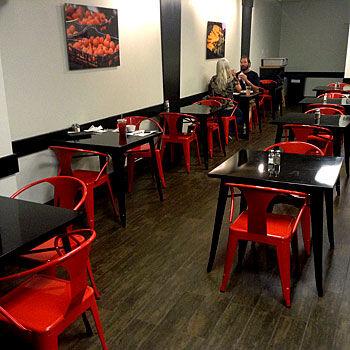 Modern, hip and clean interior
For my palate the absolute winner among the four bruschetta choices is the mushroom and asiago, sliced, lightly toasted bread rounds topped with olive oil-soaked mushrooms with herbs and garlic and liberally sprinkled with freshly shredded asiago. Outstanding! There is a rather fancy Mediterranean vegetable bruschetta (basil pesto, bell peppers, eggplant, zucchini, onion and topped with goat cheese), which is delicious, as are the ordinary and simple tomato and basil or just cheese and garlic, but the mushroom and asiago is a must-have.
Salads are made mostly with greens from local farms (just as the tomato sauce is homemade from either local heirloom tomatoes or the juicy prime alta cucina full-flavored variety. Many diners simply choose the Mira Monte Caesar, which is organic Romaine, Caesar dressing, homemade croutons and asiago cheese. It is good, but rather ordinary. I prefer the Matilija salad, an organic mixture of lettuce and ranch-style dressing with warm roasted eggplant, bell pepper, zucchini, jalapeño and topped with goat cheese and sunflower seeds.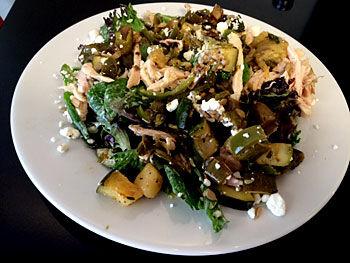 Chicken Ceasar salad
The other day at lunch I decided to order one of the sandwiches (chicken, salmon, beef, veggie, etc.), the Tronchetto, an Italian-style sliced rotisserie pork with fresh basil pesto. The juicy tenderness of the pork really made the mouthwatering savoriness of the sandwich truly memorable.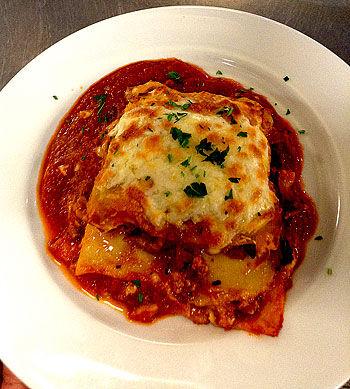 Matteo's meat & cheese lasagna
One of the main draws for pasta at Spin is the rapidity the many combinations with which can be delivered. I love angel hair puttanesca: pasta with spicy tomato sauce, olives, capers and fresh basil. (If you are like me you'll ask for extra-spicy and make sure to insist on al dente. Sometimes the pasta is a little beyond al dente.) A surprise to me was the gluten-free pasta option: penne (made with corn and rice flours) with which I chose the Adria sauce: olive oil, garlic, fresh tomato, red pepper flakes, broccoli and goat cheese. The full-flavored penne was cooked to perfection, and the flavor was egg-ish and starchy, yet absolutely gluten free. The meat and cheese lasagna is also a great choice, sheets of flat pasta layered with rotisserie pork, beef, tomato and cream sauce, and blended with mozzarella and asiago cheese, My vegetarian friend swears (lovingly) by the eggplant Parma.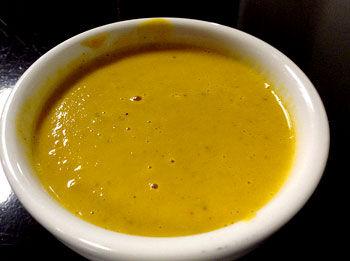 Puréed sweet pepper soup
As a special treat, the other night with a friend I ordered the puréed sweet pepper soup (savory and flavored with white pepper), followed by the tiger shrimp Shangri-La style: a spicy red curry sauce (with turmeric and sage), lemon, cilantro and onion. The large shrimp were moist and tender and were complemented by the tangy sauce. All dinners are accompanied by fresh mashed potatoes and mixed veggies (zucchini, carrot, broccoli, garlic).
There are so many options on this menu it would be difficult to include or sample everything in just a few visits. I have experienced and noticed there is sometimes a communications confusion as to whether one's order it is for takeaway or eating in. Even with customer specificity there is still a little confusion in this area. I am sure, however, that wherever you choose to consume the meal it will probably not be your last visit to this location. For some it may seem a bit pricey, but for such well-prepared, healthy and rapidly presented food, it is well worth many repeat meals.