A group of young musicians prepare themselves on stage, adjusting the volume of their instruments as they survey the varied group of revelers in front of them. Their confidence is high; this is their time to shine at Spencer Makenzie's, the fish taco stand in downtown Ventura. Skick, as they're known, steps up to the microphones and begins to belt "I Want You to Want Me," and the crowd is won. Technically, anyone could have won them. At the End of Summer Block Party, Venturans and others flock to the nearest musician in an attempt to be neighborly and rowdy among strange dogs and a veritable grab-bag of locals, fish tacos, craft beer and the moral authority of a rousing game of cornhole.
The second annual End of Summer Block Party hosted by Spencer Makenzie's Fish Company wrapped up this past weekend with an emphatic presentation of classic surf guitar by none other than Dick Dale, the "legendary king of the surf guitar."
The event, which spanned the entirety of the weekend, saw 20 bands and a host of vendors lined up along Ash Street.
Surf Brewery, whose brick-and-mortar location opened up in Ventura earlier this year, sold a variety of craft beers to those who could pass the ID check and obtain a ticket. Across the road, Spencer Makenzie's sampled sauces, and beside it a carnival-like booth prepared "Hawaiian Donuts," which loosely translates to "more calories."
On Sunday, the Guy Martin Band closed its set in an energetic frenzy of "Voodoo Chile" (as made famous by Jimi Hendrix). This pleased the amorphous crowd of fans who wiggled and nodded their heads in approval. Two women wearing hats adorned with stuffed birds pushed their way to the fence, throwing their hands in the air as if they simply did not care.
By the time Samson, a semi-reggae, Sublime-inspired feat of electronic rhythm and laid-back guitars, took the stage, the cornhole tournament toward the back of the cordoned-off strip was well under way. The tourney was promoted boldly beside live music on the block party fliers, and having no prior knowledge of what a cornhole tournament would be, my curiosity was piqued. Who could resist a no-holds-barred, last-man-standing cornhole tournament?
As it turns out, the art of the cornhole is a very Midwestern pleasure with a misleading name. Standing about 10 feet away from a board turned at an angle with a hole cut into it, a "cornholer" tosses a beanbag underhanded in an attempt to land it through said hole. If the beanbag misses the hole, it becomes another player's turn to try and cornhole the competitor, so he or she better watch out.
Passing by the many tents on the way to the cornholing grounds, a young, tall man was overheard to say, "I'm going to cornhole you, brother." Ventura's friendliness has never been so obviously on display.
After Heather Rae & Rumbleweed left the stage Sunday afternoon, the crowd grew dense in anticipation of the legendary Dick Dale. When he finally took the stage, the mass of sun-baked fans lurched forward, responding to every "Hey!" and "Bo Diddley!" Fans young enough to be Dick Dale's grandchildren were seen popping and locking to the classic tune of the custom guitar.
There are no real demographics for the End of Summer bash. In a community that adores itself and its people, its eclectic nature is on full display no matter the band or the venue; Venturans are the girls (and boys) who just want to have fun, they are the seething masses absorbing any and all forms of entertainment. Spencer Makenzie's captured that spirit better than most, though, with just the right blend of rock, food and the strange antics that make Ventura the awesomely weird place that it is.  
Public Enemy's Chuck D Brings Tha Noize to Spencer Makenzie's
By Chris Jay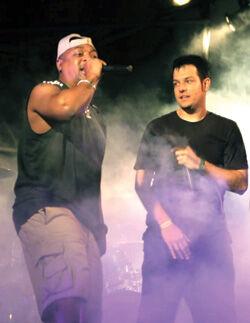 If you were one of the lucky ones who stayed until the end of day one at Spencer Makenzie's Block Party, you bore witness to an almost unbelievable musical event. BIG BAND, an occasional 10-man cover band, featuring members of Army of Freshmen, Le Meu Le Purr, New Liberty and Jeff Hershey and the Heartbeats, closed out the incredible day of music with a few guest singers from the local music scene, one of whom just happened to be bona fide hip-hop legend Chuck D.
No, it was not a rumor, joke or look-alike as some have suggested. "Mistachuck," "The Rhyme Animal," "Chucky D," "The Hard Rhymer," the activist, actor, producer, author and, of course, leader of one of the most important rap groups of all time, absolutely tore down the house with an energetic rock version of the Public Enemy anthem "Bring Tha Noize." A shocked (to say the least) crowd gave Chuck and the boys a massive response; and after a few hugs and photos, Chuck drove off into the Ventura night because, as he told the crowd, with a smile, he didn't want to get in trouble with his wife who was at home waiting for him to have dinner. It was a surreal and amazing moment in local music history and a testament to the diversity and talent in Ventura, a place that even hip-hop icons call home.
See videos courtesy of Travis Mauck and Dwayne Mileham.
Dick Dale: http://www.youtube.com/watch?v=riSJE8zyVtI&feature=player_embedded 
Chuck D and Big Band: http://www.youtube.com/watch?v=XyVXJMnfnQ8