For the Troops
It's 12 days before Thanksgiving, and Paula Cornell is busy filling care packages with items for U.S military men and women serving overseas.
The We Care packages are filled with books, sunscreen, socks, a toothbrush, toothpaste, granola bars and other items for U.S. troops deployed in Afghanistan, Kuwait, Africa and other spots all over the world.
"This is all the stuff that we take for granted" Cornell said. "We just go to our cupboard and get what we want. It's not something they can do."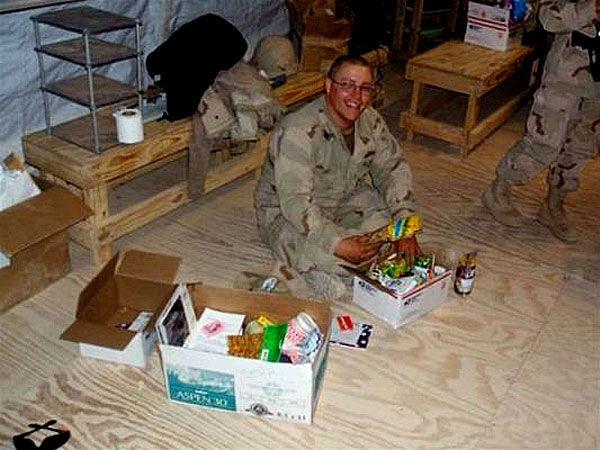 A U.S. military soldier receives a "We Care" package from For The Troops, a nonprofit that sends care packages throughout the year to American military men and women serving overseas. This soldier's name and location has been kept private due to military confidentiality.
Even though America is not at war, our country currently has troops deployed all over the globe — and always will, she said.
"I just want to bring them a little bit of home to let them know we appreciate their courage, sacrifice and selflessness," said Cornell of Simi Valley.
As the founder of For the Troops, a nonprofit based at Sycamore Plaza in Simi Valley, Cornell is at the helm of more than 100 volunteers who send out care packages three times a week.
The nonprofit is among numerous grass-roots efforts throughout Ventura County that serve those in need year-round, from the elderly to children with cancer.
At For the Troops, it costs $15,000 in postage per month to send the packages, which are made possible through donations from supporters throughout Ventura County. Sycamore Plaza donated the space, located near the Dollar Tree, so the operation can run year-round.
"For the Troops could not operate without the generosity of Sycamore Village and other supporters," Cornell said. "I'm grateful from the bottom of my heart."
For the Troops was inspired by Cornell's husband, Jim, who served in the Army during the Vietnam War in 1968 and 1969.
One day in 2005, Cornell noticed her husband didn't brush his teeth, and she asked him about the oversight.
"He said 'I didn't brush my teeth for a year in Vietnam,' " Paula Cornell recalled. In that moment, she also learned that her husband didn't have toilet paper for a year while serving in Vietnam, and that he was among nine out of 119 men who came home alive from his unit.
"I was horrified to think that my life was so blessed and I'm not even thinking about our troops that are currently in harm's way," she said. "So I wanted to do something to show my appreciation."
In 2006, Cornell started collecting donations from the community to put in care packages for the troops. The effort began in an empty conference room at the office where she worked as a paralegal. When the conference room was no longer available, she ran the operation in her home until Sycamore Plaza donated the space for the nonprofit's operations.
To date, For the Troops has sent out more than 130,000 packages. In addition to containing needed items, each box includes a handwritten note with words of gratitude to the soldier on the receiving end.
Without support from the public, For the Troops wouldn't exist, said Cornell, noting that donations are crucial year-round, not just during the holiday season or times of war.
To help sustain its operations, the nonprofit presents fundraisers throughout the year. The next one on Feb. 27 is a Military Tribute Gala Honoring Our Gulf War Veterans at the Ronald Regan Presidential Library.
"I have a daughter that's 24 years old; I cannot imagine her in a deployed location," Cornell said. "There are parents with children in the U.S. military who are deployed all over the world. Often, they don't hear from them for months at a time."
The military soldiers who receive the care packages express their gratitude in letters they write to For the Troops.
"It's very nice knowing folks back home still care about what we are doing, regardless if they agree or not," wrote a sergeant in the U.S. Marines whose name was kept private due to military confidentiality.
Another wrote a letter while being deployed in the remote mountainsides of northeastern Afghanistan.
"We greatly appreciate all the goodies you sent and the warmth you conveyed," he wrote. "The men here are acutely aware of how far we are from home, but with gestures such as yours, we feel like you and our fellow Americans are right beside us."
For more information visit www.ForTheTroops.org or call 306-0830.
Brain Injury Center of Ventura County
In 1995, Dave and Midge Stork experienced a life-changing event when their 17-year-old daughter, Su, while away at college survived a near-fatal auto accident that left her with a traumatic brain injury.
Su went through years of rehabilitation as her parents struggled in a vacuum of silence while seeking community resources for their daughter. While searching for ways to help Su and others facing the same challenges, the Storks launched the Brain Injury Support Group of Ventura County in 1998.
In 2007, the nonprofit's name was officially changed to the Brain Injury Center.
Today, the effort assists more than 600 survivors and caregivers each year. In Ventura County, there are an estimated 16,000 people living with traumatic brain injury — and thousands of stroke survivors with acquired brain injuries, said Donna Davies of Ventura, president of the center's board of directors, whose son has a brain injury.
Currently 6.6 million people in the U.S. live with a lifelong disability as a result of traumatic brain injury or stroke, according to the Centers for Disease Control and Prevention.
The mission of the Brain Injury Center, headquartered in Camarillo, is to raise awareness, provide support and resources to survivors and caregivers, and improve the quality of life for those impacted by brain injury, Davies said.
The center utilizes people who live with brain injuries — as well as their family caregivers and professionals experienced in the treatment of brain injury — to guide and evaluate evidence-based programs throughout Ventura County.
"Our services are free to anyone and are provided both in-home and through our support meetings, classes and individual sessions," Davies said. "We spend time talking through what the needs of the client are. We contact appropriate supports and services to help meet the client's needs."
The center's services include support groups for survivors and their families, as well as social skills classes to help the survivors reintegrate into the community after a brain injury.
"And we offer social events throughout the year to reduce the isolation and loneliness often seen when living life after a brain injury," Davies said.
As a private nonprofit organization without any government ties or funding, the Brain Injury Center relies on donors and volunteers to survive.
"Our volunteers come in a variety of forms: professionals who graciously provide their time and expertise; trained peer mentors who provide hours of support and comfort to others walking the same path; our fundraising committee that raises over a third of our budget each year in special events; and our great paid and volunteer staff who stretch every dollar as they utilize their skills and hearts to spread our caring and knowledge as far as possible," Davies said.
If the Brain Injury Center didn't exist, the community of survivors would be silent again, she said.
"Silent when the family faces the heartbreaking news that their loved one will live life very differently than was planned. Silent when the survivor wakes up each day wondering what the future will bring. Silent when the activities they used to participate in no longer fit," Davies said. "A community that understands brain injury and accepts the responsibility to meet their needs is a vision we work toward every day."
For more information visit www.braininjurycenter.org or call 482-1312.
Ventura County Ombudsman Program
When Bee Ellisman's mother was in a nursing home, Bee visited her often, witnessing firsthand the need for advocates for elderly residents.
In 1981, Ellisman and her friend Shirley Radding founded the Ventura County Ombudsman Program based on the principle that elderly persons unable to care for themselves are entitled to dependable and consistent care.
With a small grant to get started, the founders, one staff member and two volunteers began monitoring 12 nursing facilities in Ventura County and advocating for decent care and quality of life for 1,482 elderly residents.
In 1988, the founders incorporated Long Term Care Services of Ventura County Inc., a nonprofit charitable corporation, to administer the program. In 1991 the Ventura County Ombudsman program was named a model effort by the state of California for its outstanding efforts on behalf of institutionalized elderly.
"Ombudsman is a Swedish word meaning advocate," said Sylvia Taylor-Stein of Oxnard, executive director of Long Term Care Services of Ventura County Inc.
A special aspect of the program is its facility visitation plan, she said.
"The federal mandate governing the Ombudsman program nationwide requires only one annual visit per facility," Taylor-Stein said. "However, the founders, foreseeing the built-in failure in such a deficient model, set a mandate for Ventura County that stipulated all skilled nursing facilities would be monitored a minimum of once a week and all assisted living facilities a minimum of once a month."
This mandate has continued uninterrupted, and today five staff members and 63 volunteers advocate for decent care and quality of life for 9,500 disabled and elderly persons in Ventura County's 231 long-term care facilities.
"Sixty percent of those who live in nursing homes have no family or friends to watch out for them or visit them, and are too fearful, vulnerable or frail to represent themselves," Taylor-Stein said.
Intense training and a strong commitment to the elderly are required to become an Ombudsman, including 36 hours of classroom training, 15 hours of field service and 12 hours a year of continuing education to earn and retain certification by the State of California.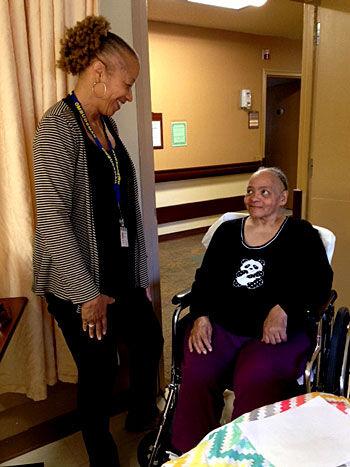 Ombudsman Maeretha Franklin Coleman (left) visits with resident, Barbara McDaniel.
"This specialized training equips him or her to investigate and resolve complaints on behalf of elderly residents, and handle the myriad of problems that may arise in long-term care settings," Taylor-Stein said. "For problems that cannot be resolved onsite or involve serious neglect or abuse, the Ombudsman enlists the help of licensing agencies, law enforcement and the District Attorney."
Ombudsman services are confidential and free of charge. 
"No other agency or program exists solely to advocate for the institutionalized elderly," Taylor-Stein said. "Each year, the Ombudsman program provides the elders of Ventura County, their families and the community at large over 20,000 hours of free services."
Volunteers, the nonprofit's greatest asset, provide a value of $160,000 of in-kind services to the seniors and disabled in long-term care facilities.
 "However, training and supporting volunteers, investigating complaints, pre-placement counseling, in-service training of paid facility staff, providing community education and support groups requires a professional staff," Taylor-Stein said. "With a small paid staff and volunteers, we are able to provide 12 months of advocacy and support to one senior or disabled person in long-term care."
Although the program is federally mandated, it does not receive the financial support from the federal or state government to provide services that the elderly and disabled require, Taylor-Stein said.
As a result, the program depends on funds from sources that include private foundations, community development block grant funding, and individual and public contributions.
"The program's goal is to continue to bring strong effective advocacy and support services that help ensure a higher quality of life for this vulnerable neglected population — a group whose numbers are expected to double in the next 10 years," Taylor-Stein said.
For more information visit www.ombudsmanventura.org or call 656-1986.
Teddy Bear Cancer Foundation
The Teddy Bear Cancer Foundation was inspired by a 3-year-old-boy with Ewing sarcoma, a rare form of bone cancer and brain tumor diagnoses.
One day, his mother broke down in tears as she shared the hardships she and her family had faced while caring for her sick child. She spoke of unplanned and oftentimes extended hospital stays, as well as expensive medications, which sometimes exceeded $1,000 after insurance. She also shared the dilemma of needing to give up her income in order to care for her sick son and be able to accompany him during hospital stays.
 Mostly, she faced the fear of not knowing whether her son would relapse again or even survive. She shared that her family was seemingly drowning without the knowledge of available support to help them during this difficult time.
 "After this conversation, I realized the great need for a support system for families with children suffering from cancer on the Central Coast," said Nikki Katz, who founded the Teddy Bear Cancer Foundation in 2002 with the determination to assist families through their battle with cancer.
In 2002, with Katz's determination to assist families through their battles with cancer, the Teddy Bear Cancer Foundation was born.
Today, the nonprofit is dedicated to providing support for families with children suffering from cancer living in Ventura, Santa Barbara and San Luis Obispo Counties.
The mission of the organization is to ensure that children with cancer receive the undivided comfort of their parents during the treatment and recovery process. The nonprofit achieves this by providing middle- to low-income families with financial aid for rent, mortgage, utilities and car payments, as well as other supportive services, thereby allowing families to focus on what is truly important — their children.
"Our services benefit families of children diagnosed with cancer before age 18 until the age of 21," said Lindsey Leonard, executive director of the nonprofit.
For a family that has a child with cancer, the entire family unit is impacted, and the average length of treatment is six month to three years, she said.
"That doesn't include if that child relapses or late-term effects from chemotherapy or other treatments," Leonard said.
Such treatments can result in learning as well as physical disabilities.
"Just because a child is proclaimed cancer-free does not mitigate them from experiencing late-term effects," Leonard said.
The foundation offers support groups, including bilingual efforts, facilitated by licensed social workers. It provides "bear" necessities, including furniture, appliances, clothing or bedding, as well as diapers and wipes for families with little ones.
It hosts social events, such as Family Fun Days, and trips for children and their families throughout the year, including excursions to sporting events. The foundation also hosts the Cottage Children's Hospital's Annual Pediatric Holiday Party, enabling children in treatment and their siblings to visit with Mr. and Mrs. Claus, receive a gift, participate in activities and enjoy lunch with their families.
Support for the siblings is also a special aspect of the foundation, Leonard said.
"Imagine having one child with cancer; all the focus, energy and time is dedicated to that child," she said. "So often the parents are tired and stressed, which affects the siblings."
Families can apply for up to $5,000 to help with payments of rent or mortgage, auto loans, utility bills, medications, home care services and other needs not covered by insurance.
"Financial assistance is such a great need when a child is going through treatment, not including relapses," Leonard said. "Some parents have to either quit their job or reduce their hours at work just to be able to care for that child. We're here to help alleviate the financial burden so they can focus on their child getting well."
In 2014, the Teddy Bear Cancer Foundation served 150 families and was supported by 685 volunteers.
Since the foundation began, it has gifted $1.4 million to families.
"We really work to garner community support, and funding is our greatest need," Leonard said. "Any amount counts. Our ratio for giving back to our programs is extremely high with more than 85 percent going back to our families."
For more information visit www.teddybearcancerfoundation.org or call 805-962-7466.
Socks For Seniors
For 15 years, Jamie Coyne and his wife, Kitty, have organized an annual community project during the holidays called "Socks for Seniors."  
"It's very simple. We collect new socks to be distributed to elderly in nursing homes," Jamie said of the nonprofit community service project. 
The holidays are a fun time of year with all the holiday work parties, family gatherings and meetings with lifelong friends, he said.
"It's the friendliest and most giving time of year, but for some it can also be a depressing time of year and our seniors can get lost in the shuffle," he said. "For some seniors, just being away from children and grandchildren produces extreme loneliness that's exaggerated by festivities of the season."
Socks for Seniors and its volunteers have one priority this holiday season: to bring holiday cheer along with a pair of new socks to warm the hearts and cover the cold feet of seniors.
The effort began 15 years ago in Columbus, Ohio, when Jamie Coyne was presenting a music therapy program in senior communities.
"Often my wife, Kitty, would go along and she got to know many of the residents," he recalled. "One day she noticed that one lady who was normally in good spirits wasn't quite herself."
Kitty learned that the woman's feet were "freezing" wearing worn-out socks with holes.
"My wife then left to return a few minutes later with a brand-new pair of socks," Jamie Coyne said. "Not only did it serve its purpose but it made the lady's day. We learned quickly that you can't do for just one — others that day took notice and wanted a pair of socks, too."
During their next visit to the senior community, the Coynes brought socks for everyone.
"And Socks for Seniors was born," Jamie Coyne said. "It grew slowly over several years."
In 2011, he realized that the effort could expand nationally one area at a time.
"It is currently in over 500 cities nationwide," he said. "It only takes one person and one location to get a program running and it doesn't take time or money."
To that end, the charitable effort does not take or make money.  
"We collect socks," Jamie Coyne said. "We like for all socks to stay in the local communities in which they are collected. If a volunteer doesn't have an outlet in mind we network to connect them with one. We are looking for local area coordinators near Ventura to help with collecting socks this year."
For more information visit www.socksforseniors.com or call 615-787-SOCK.